NORFOLK AND PORTSMOUTH THUNDERSTORM
May 26, 2006:
The day started out a hot one. It was the first time this year that the southeast corner of Virginia had reached 90 plus degrees. The dew point was near the lower 70's and the sky was clear but hazy most of the day. SPC (Storms Prediction Center) had issued a slight risk for the state of Virginia as well as North Carolina a day or two in advance. Once off work, I went to friend and fellow chaser Bill Coyle's house to get ready to chase the storms as they approached the area. We watched the radar and monitored SPC for watches and of course, they did issue a sever thunderstorm watch early in the afternoon. The watch would last till 11:30pm. As initiation started east of the mountains and pushed eastward into the unstable air, we were getting ready to head out. However, Mother Nature had different plans. Storms developed and passed to our north and south completely missing us. Those storms pushed offshore and as luck would have it, the line closed off in the gap that passed right over us. With the next set of storms still far west and looking like they were dieing out, I headed home for a bit.
Once home for a few hours, I went outside and herd a rumble of thunder to the southwest. Since the NWS Wakefield radar was down, it was just luck that I went out when I did. Cristal joined me as I headed to downtown Portsmouth where I could over look the water to see east into downtown Norfolk and north towards Hampton and Newport News. The storm passed over dropping pea sized hail briefly and we repositioned to look more eastward. I set up the video camera and the digital to capture some daytime lightning photos. Below you will see the digital camera images as well as some video stills. None of the thunderstorms in the area were severe this evening.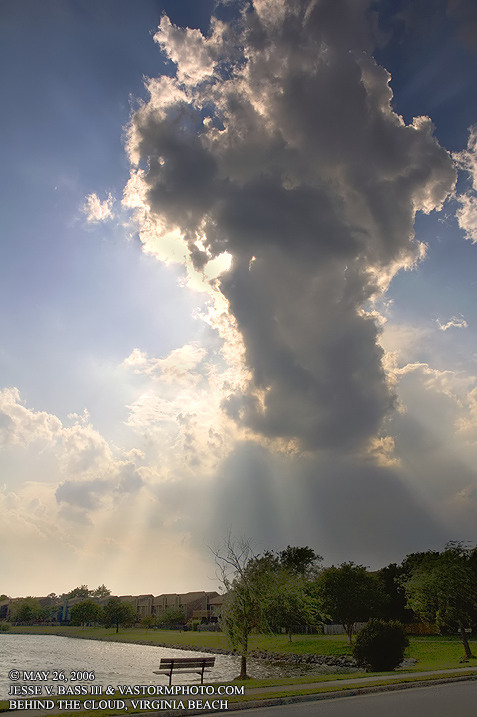 Taken outside Bill's house as we waited for the storms to arrive.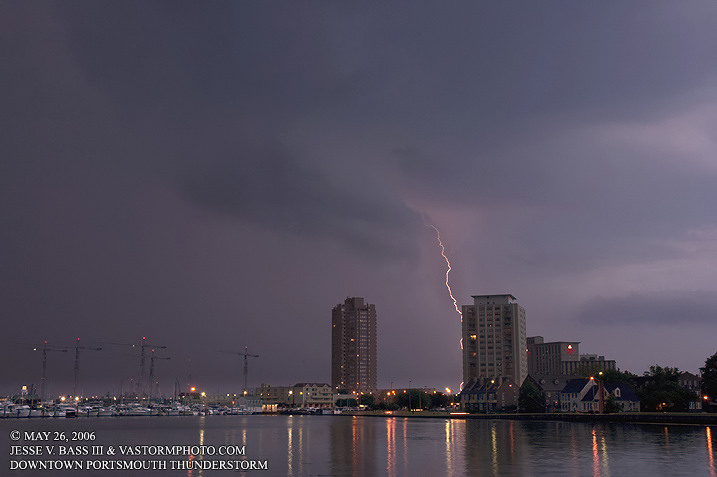 Looking toward the east, the storm started to throw out a few bolts behind a few of the buildings in Portsmouth.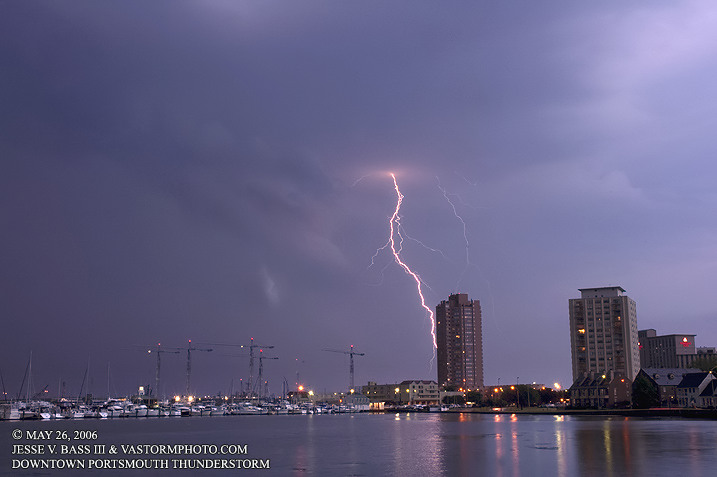 Another bolt looking eastward.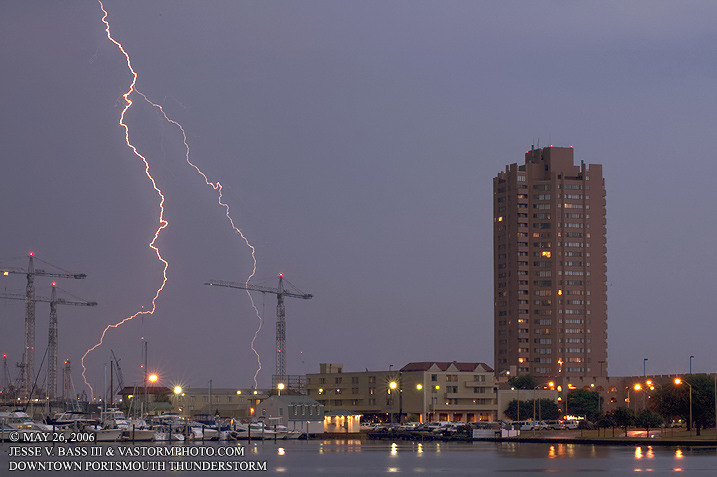 This photo was taken using my Nikon 80-300mm zoom lens. First lightning shots taken with this lens.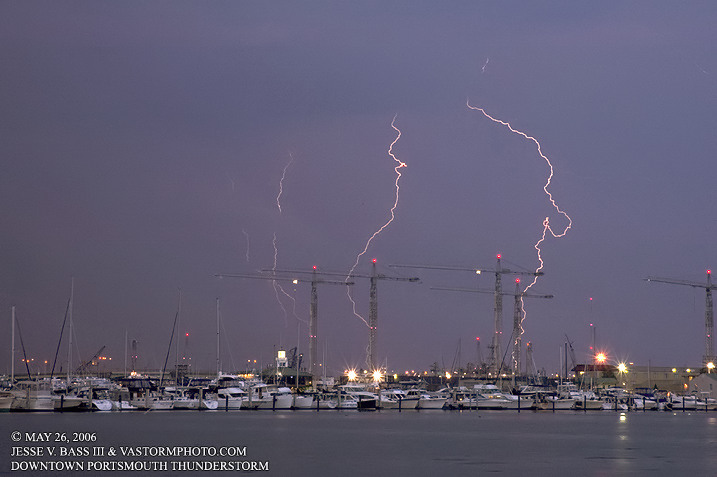 In the foreground is Tidewater Yacht. Further back is the bridge that connects Norfolk and Portsmouth via the Downtown Tunnel.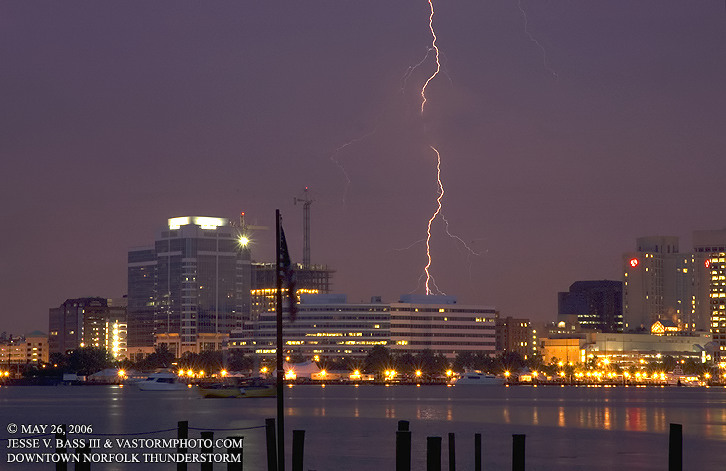 Here I am looking into the heart of downtown Norfolk. The bolt is behind the World Trade Center in Norfolk. Notice the bolt passing through a small cloud cluster near the top of the photo.
Video Stills: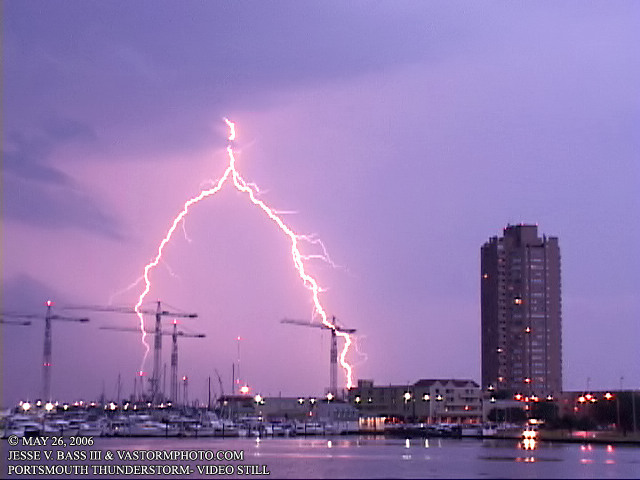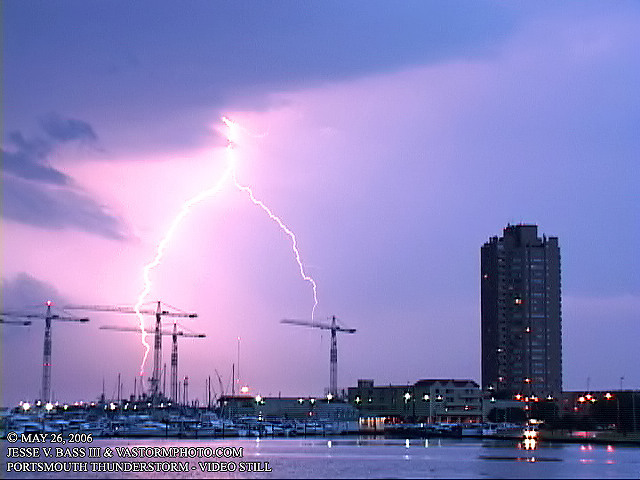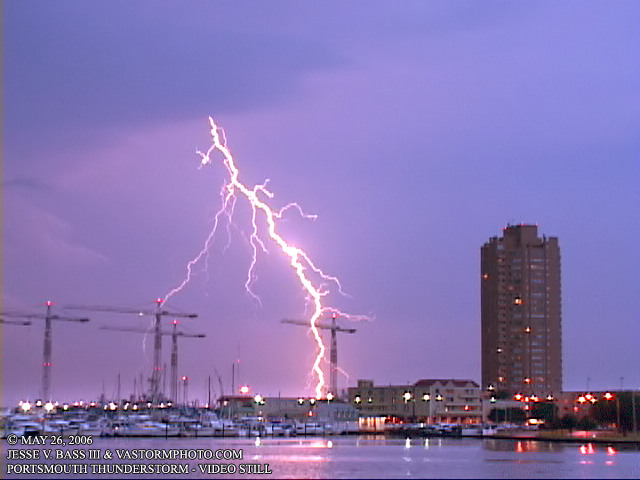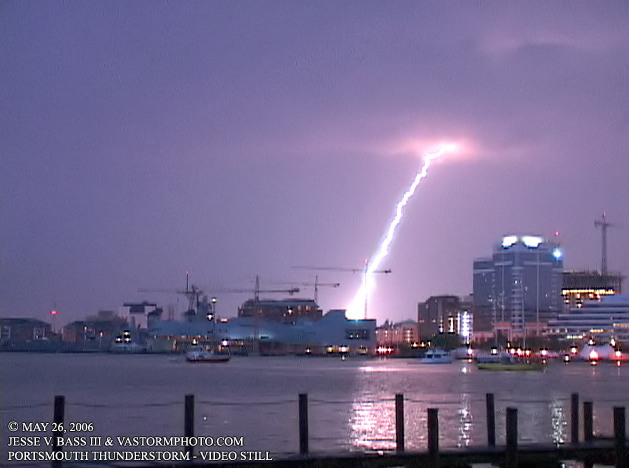 Of course the daylight was not allowing me to leave the shutter open very long on the Nikon, so I missed these big bolts. However the video camera was rolling and I was able to get these and clean them up a bit.
All Images Copyright Jesse V. Bass III and VaStormphoto.com
Copyright 2006 All Rights Reserved