CLOSE LIGHTNING STRIKE VIDEO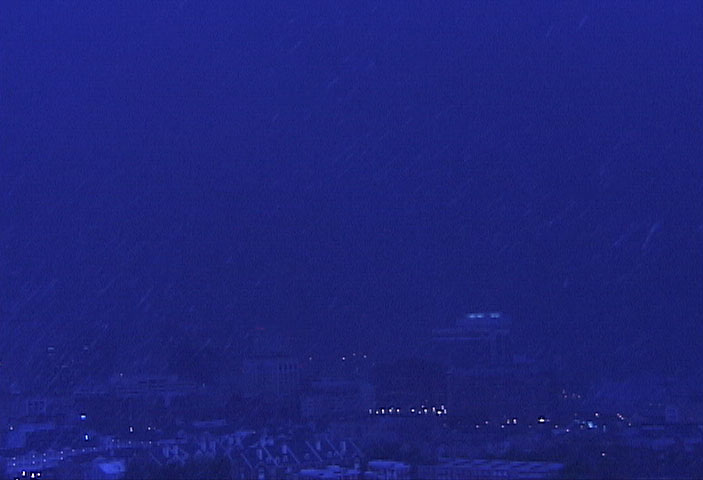 THIS WAS A VERY CLOSE STRIKE IN 2002... FRIEND AND FELLOW CHASE PARTNER BILL COYLE AND I WERE ATOP THE HAGUE TOWER IN DOWNTOWN NORFOLK... THE BOLT ACTUALLY STRUCK JUST ABOVE OUR HEADS ABOUT 10-20 FEET... WE THINK AND IT IS PROBABLY A SAFE BET THAT IT HIT A LIGHTNING ROD JUST ABOVE THE DOOR WE WERE STANDING IN... WE WERE ON THE 25 FLOOR I BELIEVE IT WAS... LETS JUST SAY, THE TOP FLOOR ABOVE 20 FLOORS AND IN THE ROOM WITH THE INDOOR POOL...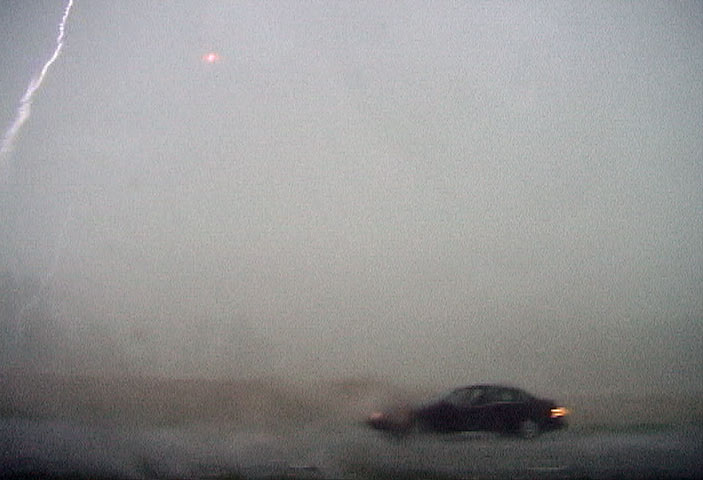 THIS CLOSE STRIKE HAPPENED ON MAY 9, 2003... THIS WAS A TORNADIC SUPERCELL THAT MOVED FROM WEST-CENTRAL VIRGINIA SOUTHEASTWARD... THIS WAS JUST WEST OF FRANKLIN, VA AS THE CORE OF THE STORM PASSED.... IT APPEARED THAT THE TRUCK IN THE VIDEO IS WHAT GOT HIT.... IT SEEMS THAT THE BOLT JUST FOLLOWED THE TRUCK OUT OF THE FRAME... CLICK THE IMAGE TO SEE THE VIDEO..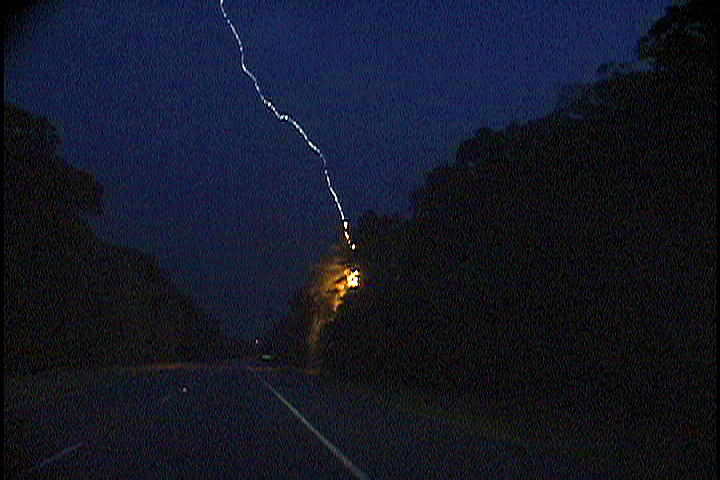 THIS WAS TAKEN ON JULY 18, 2003 ON RT. 58 NEAR SUFFOLK, VA... I WAS USING A WIDE ANGLE LENS HERE SO IT WAS MUCH CLOSER THAN IT APPEARS... LESS THAN 20 YARDS OR SO AWAY.... WE FELT THE CONCUSSION FROM THE THUNDER IN THE TRUCK, WITH THE WINDOWS ROLLED UP, DRIVING AT 60MPH.... I COULD NOT SEE ANYTHING FOR ABOUT 30 SECONDS.... HOWEVER, I COULD CLOSE MY EYES AND STILL SEE THE BOLT... CLICK THE IMAGE TO SEE THE VIDEO...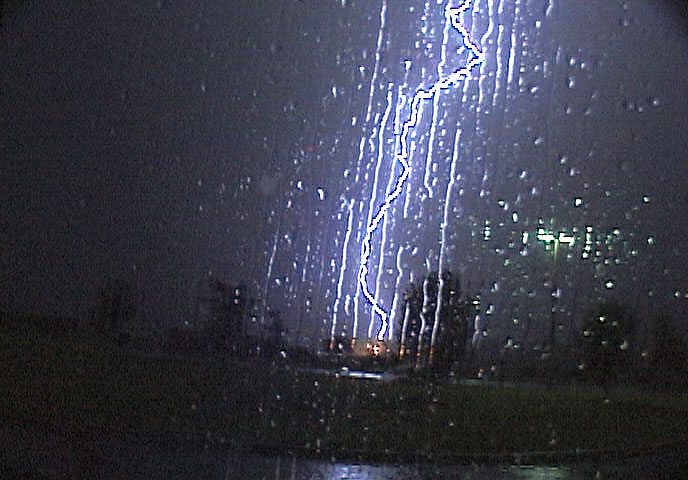 THIS VIDEO CLIP WAS TAKEN ON JULY 11, 2003 IN CHESAPEAKE, VA NEAR THE CAMPUS OF TIDEWATER COMMUNITY COLLEGE. THIS LINE OF SEVERE STORMS MOVED THROUGH RATHER QUICKLY JUST TO THE SOUTH OF THE AREA... CRISTAL PICKED UP THE CAMCORDER AFTER I HAD LAID IT DOWN TO GET OUT OF THE VEHICLE TO SHOOT STILLS AND SHE MANAGED TO CATCH THIS JUST AS IT HAPPENED... CLICK THE IMAGE TO SEE THE VIDEO...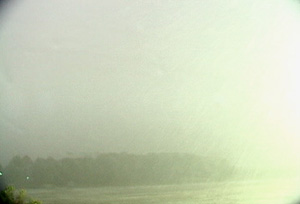 THIS WAS A PRETTY CLOSE STRIKE HERE... THERE WAS A BRIDGE JUST OUT OF THE SHOT TO THE RIGHT OF THE FRAME WHERE THEY HAD BEEN DOING SOME REPAIRS TO THE BRIDGE FOR A FEW YEARS WHEN THE LIGHTNING BOLT STRUCK A METAL POLE THAT WAS STICKING UP NEAR THE RIVER... LOOK CLOSELY AND YOU CAN SEE SOME SPARKS FLY... CLICK THE IMAGE TO SEE THE VIDEO...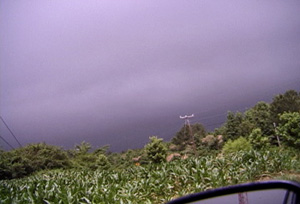 THE VERY NEXT NIGHT, JUNE 11, 2004 ANOTHER SEVERE THUNDERSTORM MOVED THROUGH WITH A LOT OF LIGHTNING NEAR THE CORE OF THE STORM... AS IT APPROACHED THE TV TRANSMITTER TOWERS NEAR DRIVER IN SUFFOLK, VA A BOLT HIT THE TOP OF THE TOWER AND I WAS ABLE TO CATCH A SPARK ALONG THE POWER LING IN THE STILL IMAGE ABOVE... CLICK THE IMAGE TO SEE THE VIDEO.