TROPICAL STORM ERNESTO: PART 2
September 1, 2006
As I said on page 1, I drove back to Virginia later that night to be in position for the flooding rains and any other effects Ernesto threw at the area. I arrived home at about 4:30am and went to bed for a few hours of sleep. Once up at around 8:30am, I went out and started shooting video and photos in the Churchland area of Portsmouth. Below is a photo summary of the flooding Ernesto caused in the Hampton Roads area of Virginia on September 1, 2006.
Here is a radar animation in the morning hours as Ernesto had moved well inland and was making his way towards the Virginia border. Southeast Virginia was slammed with heavy rains at this point and much more on the way.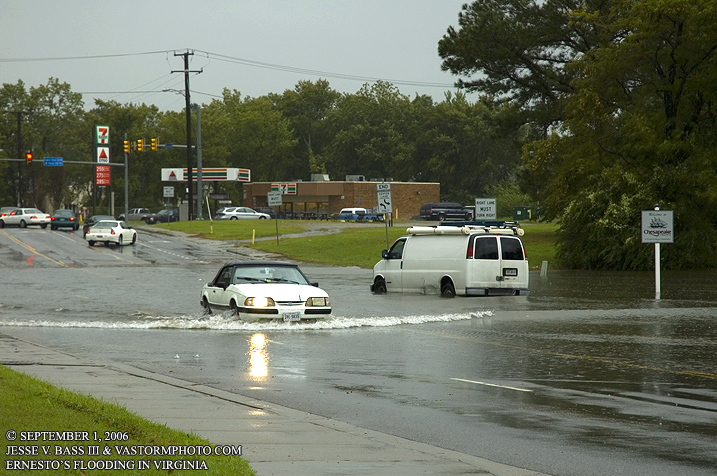 In the Churchland area of Portsmouth, this area floods all the time in big storms like hurricanes, tropical storms and nor-easters. Cristal works just across the street and she called to tell me that it was of course under water once again. So that was my first stop.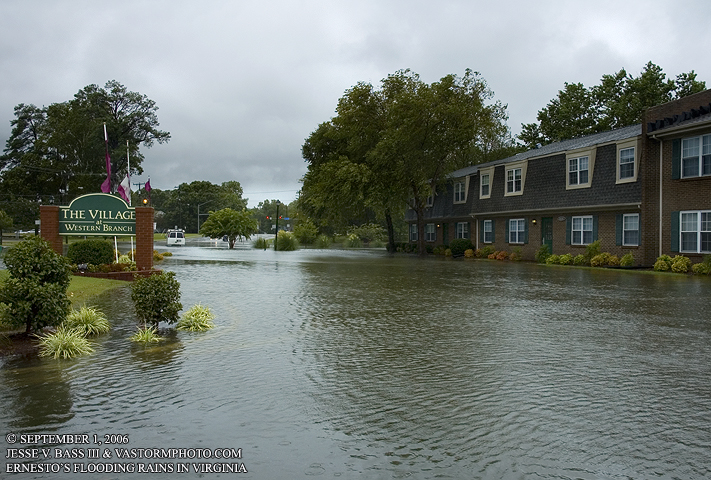 This apartment complex suffers from these storms every time. This front row of apartments has to be evacuated each time and then the management has to repair the damages before anyone can move back in.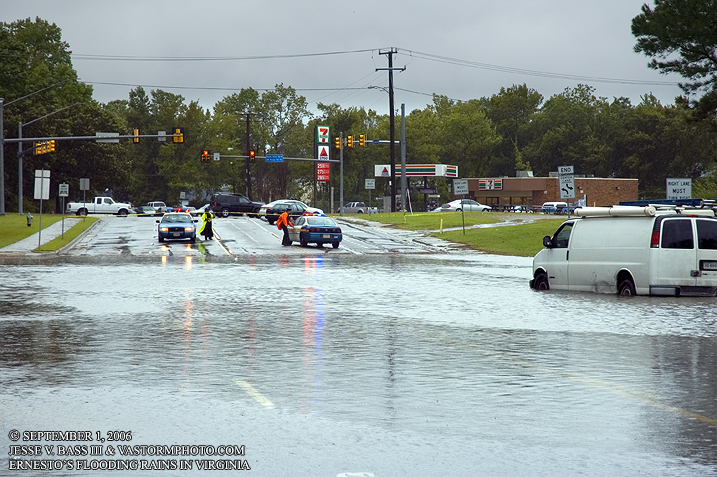 Portsmouth Police showed up to block off the road way before more people tried their luck at driving through the water and flooding out their vehicles. Yes the van is one example of just that.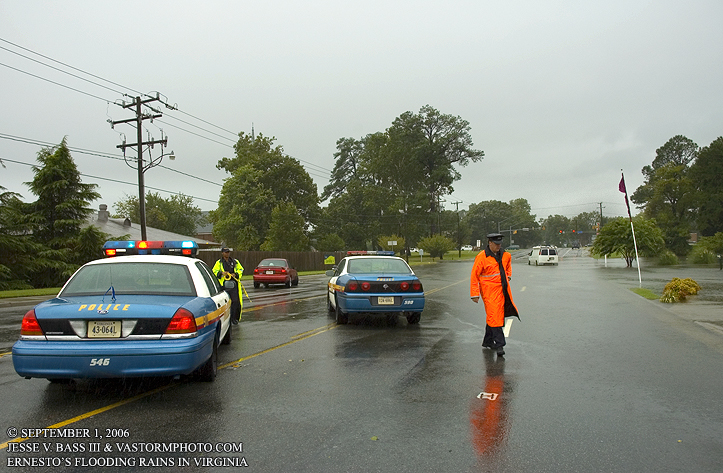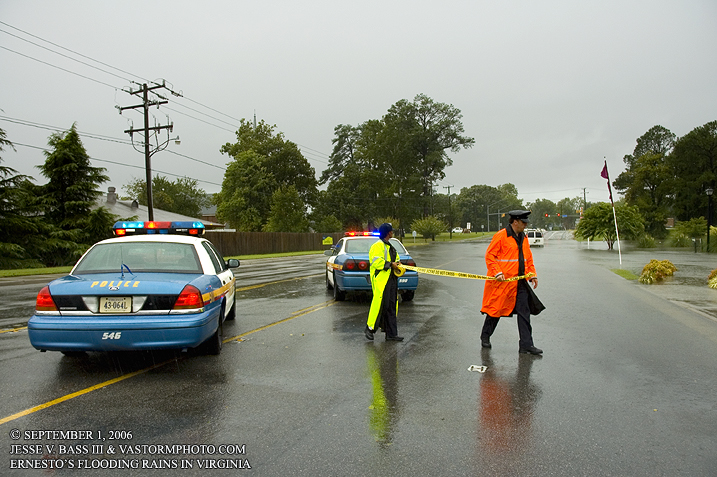 Here the two officers were blocking off the side of the street.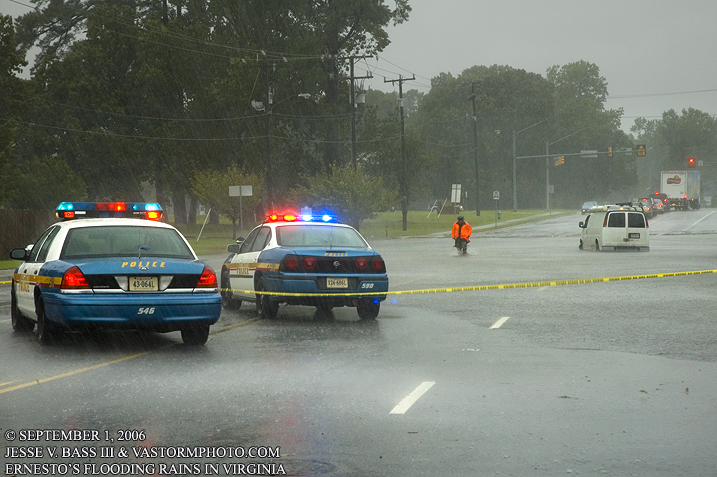 After blocking off the road, one officer went out to chat with the driver of the van and learned that the driver had called someone and that a tow truck was on the way to get him out. The next band of heavy rain was moving in as well.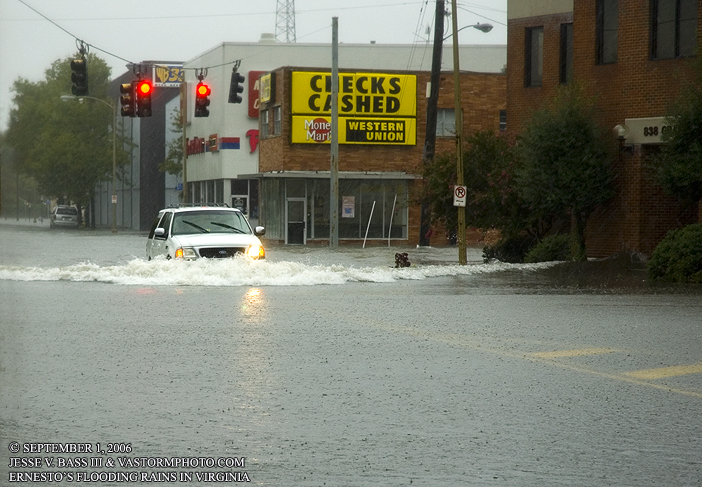 I left Portsmouth with the intent to go to Virginia Beach, however, traffic was a nightmare and the NWS was issuing tornado warnings for a cell near the center of circulation as it was approaching Virginia. So I decided to stay further west and go into downtown Norfolk and then go west to meet the thunderstorm cell as it moved into Suffolk. You don't have to do much driving in Norfolk before you run into scenes like this pretty much everywhere in the downtown area.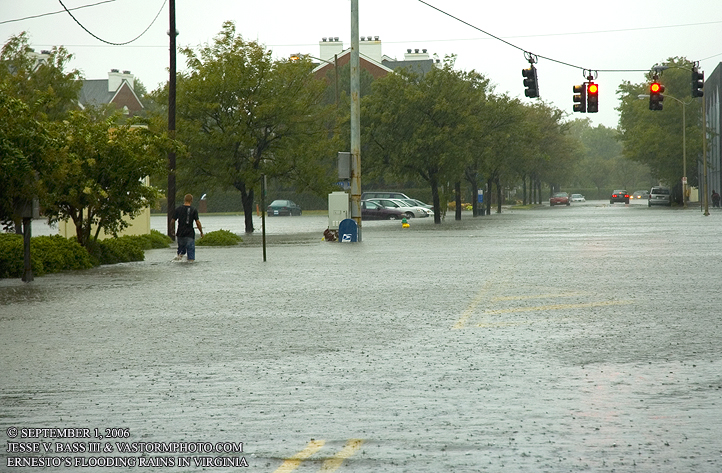 One gentleman found it easier to just walk to where he was going instead of driving there.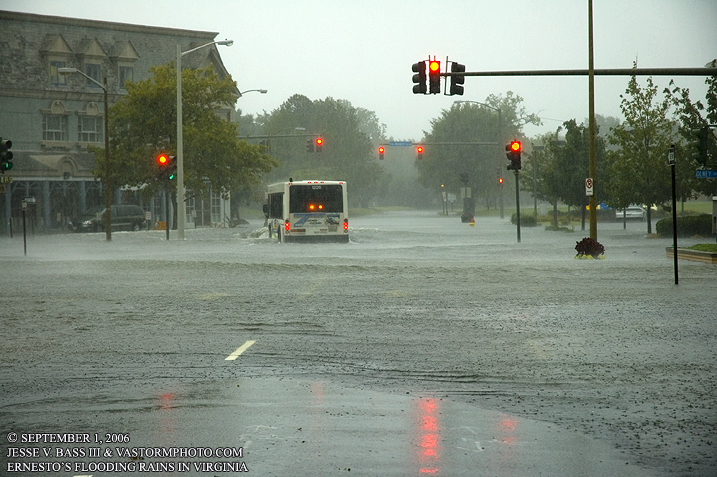 Another area well known for flooding in the city was at Boush Street and Olney Road. This city bus seemed to have no trouble.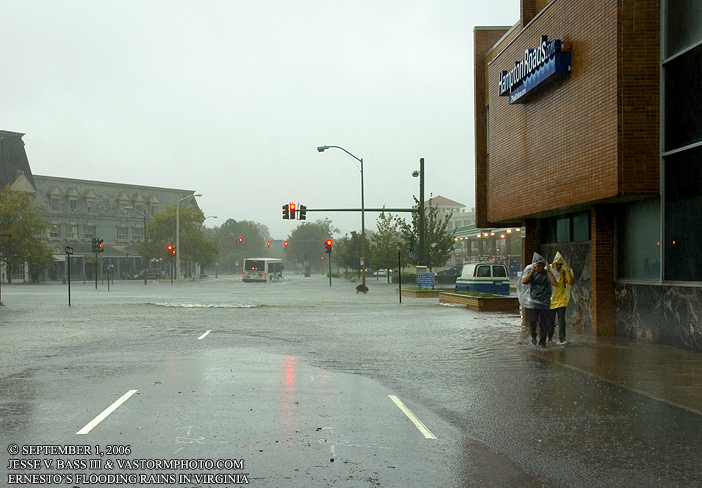 Several other people thought it was best to walk if they needed to go anywhere than to drive.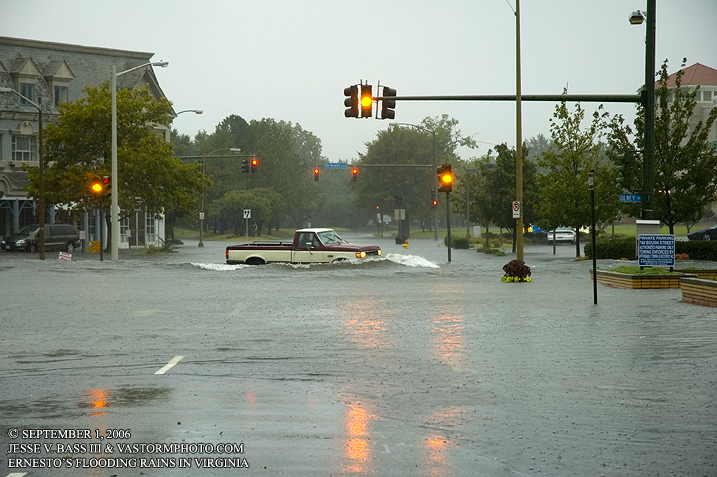 Another vehicle that just had to drive through the flood waters.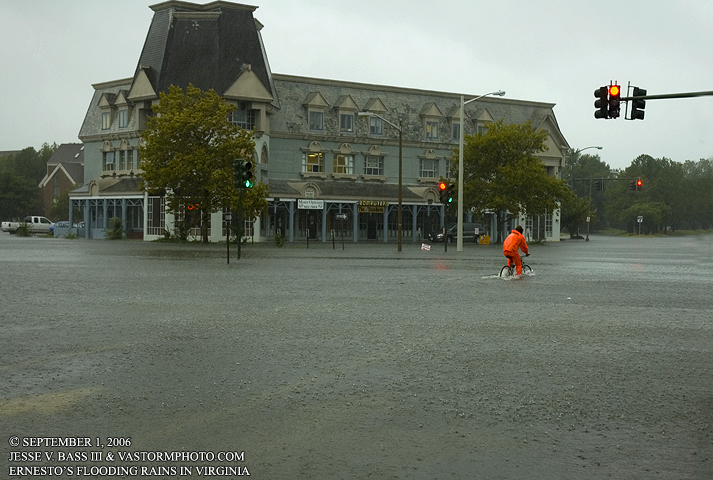 This guy was getting a good workout trying to ride a bike in that deep water.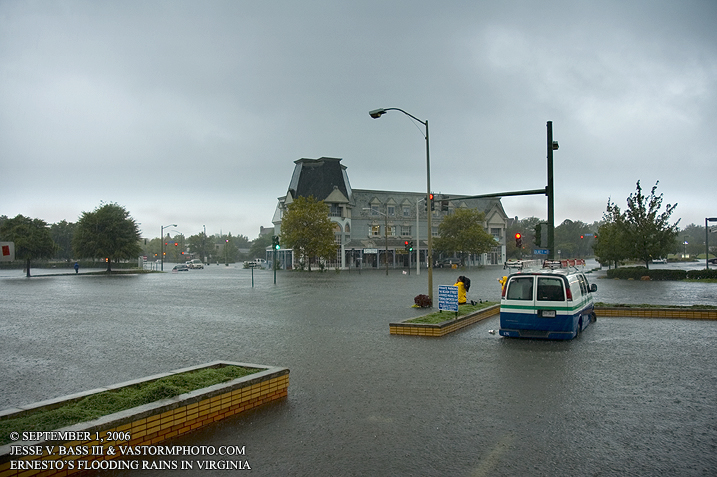 I stood on a planter like the one in the foreground to try and capture the biggest part of the area underwater.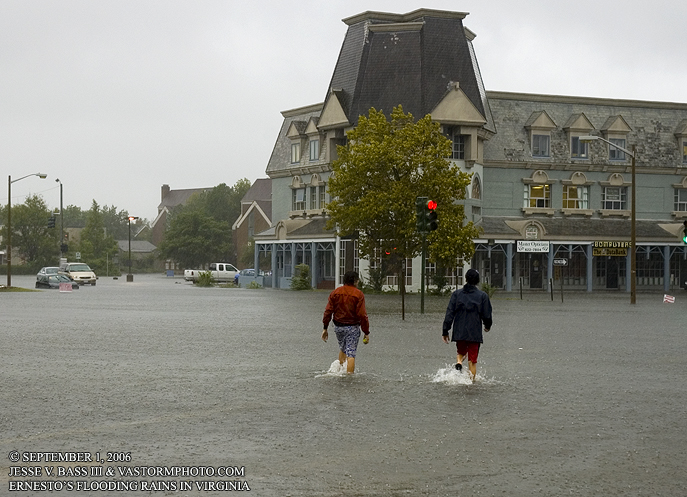 These two had just been throwing a ball back a forth as they were walking through, they were interviewed on live TV from local station WTKR-TV 3 who's station is just up the street.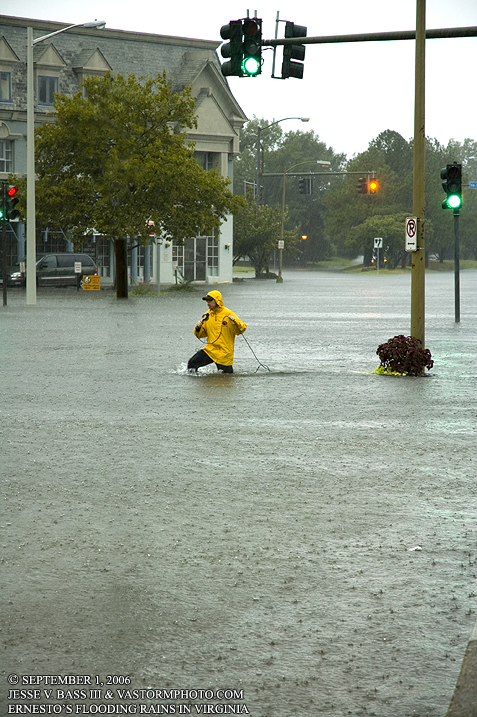 Here the reporter makes her way out to the two gentleman for the interview in nearly waist deep water.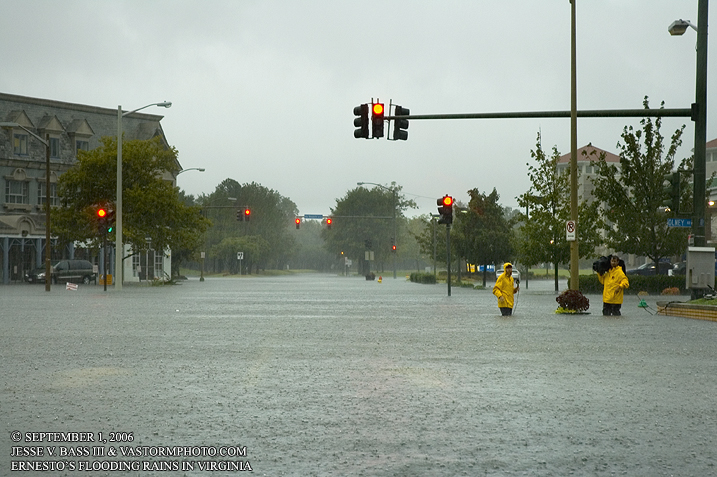 Looking up Boush Street, the reporter is set to go live once again from the flooded streets of Norfolk.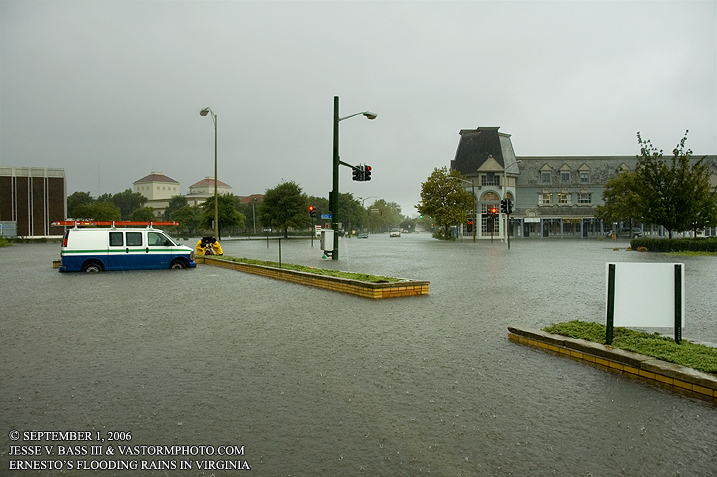 Just another angle of the area as I prepared to leave and head westward to meet the cell producing the tornado warnings. As luck would have it, the cell weakened once into Virginia and the threat of tornadoes from it weakened as well. So I decided to head towards downtown Portsmouth to see how the city was making out.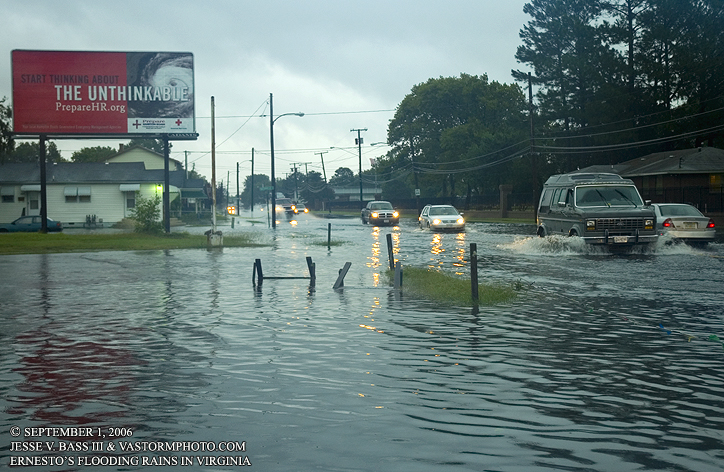 It was tough to get around the city as on and off ramps to the interstates were closed, as well as many streets in the city looked like this. Traffic was backed up and people were driving like it had not rained at all causing accidents not just in Portsmouth, but all through Hampton Roads. I shot a few photos and video from this location mostly due to the big billboard in the background. From here I decided to head home as I was growing tired on only 4 hours sleep in 24 hours. Just did not feel safe to continue.
All in all, Ernesto was a storm that moved into the area breaking a bit of a drought we had been having most of the year. We had been running about 4-6 inches or so below normal and made it up in 2 days. As of Saturday evening, many residents were still without power in the state of Virginia and several schools scheduled to open for the first day on Tuesday, have been postponed due to no power and flooding issues throughout Hampton roads. I'm sure most of the kids don't mind another day off!
All Images Copyright Jesse V. Bass III and VaStormphoto.com
Copyright 2006 All Rights Reserved