ISLE OF PALMS, SOUTH CAROLINA
August 29, 2004
At 5pm August 27, 2004 the NHC started writing advisories on Tropical Depression 7. The depression formed from a cluster of showers and storms close to the South Carolina, Georgia coastline. By 11am Saturday August 28, 2004 T.D. 7 became Tropical Storm Gaston. Gaston would quickly begin to organize just like Hurricane Alex did a few weeks prior just off the southeast coast. By 11pm that evening, Gaston had strengthened with winds near 65mph sustained and the minimum central pressure was dropping steadily and was near 994mb. Mark Sudduth and I left his office in Wilmington later that evening and headed for Isle Of Palms, South Carolina. On the way south in Georgetown, we started seeing some of the outer bands of Gaston moving inland and producing heavy rains and some local street flooding. The wind was gusty with a few gusts to 20-25mph. Once we reached the Isle Of Palms near 1am, the wind was starting to really pick up with a few gusts in the mid 30's. We checked in to our hotel and quickly went to sleep to get a few hours of rest. We knew we were going to need it not only for Gaston, but large and powerful Hurricane Frances was on her way toward the Florida east coast. We knew we would have maybe 2-3 days after Gaston before heading out for Frances. I woke up around 6am and the wind was easily gusting to 50mph. I heard several sounds outside that sounded like some patio furniture being blown around and two times felt the hotel walls vibrate from the wind. We quickly got up grabbed our gear and headed out to meet Gaston. We drove west to the Isle Of Palms Connector which is a large bridge that runs out to the barrier islands to start recording wind readings. The local police had the entrance to the bridge blocked to prevent anyone from crossing the bridge in the high winds. By this time of the morning, Gaston's winds had increased to 70mph sustained and the pressure was near 991mb. We asked the police if it would be ok for us to drive to the top of the bridge to start recording the data, and they let us through with no problems. As the officer said, "It's obvious why you are here." Once we reached the top of the bridge the winds were steadily increasing with gust now reaching 60mph or higher. We saw another SUV approaching from the bottom of the bridge and realized that it was Jim Reed and Katherine Bay. We would contact them by phone and fill them in on what the latest stats were on Gaston and of our plans to head west and then north along Rt. 17. Just prior to leaving the bridge and going to Rt. 17, we recorded a wind gust of 74mph. A few minutes later I would call that report in to the Ham Radio center at the NHC in Miami. Gaston started to make landfall but as it did it would take several hours to do so. Gaston took a glancing shot at South Carolina and sort of bounced his way up the coast until he came ashore near McClellanville, South Carolina. Winds remained near 70mph, but as the "eye" or center of the storm passed over our location along Rt. 17, we recorded a minimum central pressure of 989mb. The NHC official advisory updated remained at 991mb. During the center passage we were able to get out under near dry conditions and meet Jim and Kate. It was great to finally meet them since Mark and I have enjoyed viewing some of the great photos posted to Jim's site for some time now. We compared notes on our Hurricane Charley experiences and talked about what we were planning for Hurricane Frances. After shooting some photos of the area where Hurricane Hugo's mark is still evident, we said our good byes and headed back north as Gaston was quickly winding down. Now it was time to prepare for what would be a long trip to meet Hurricane Frances as she lumbered ashore in Florida. Below are the photos taken during Gaston's landfall. Since this write up on Gaston was posted, the NHC (National Hurricane Center) has upgraded Gaston to a minimal hurricane just before landfall with winds near 74mph.
GASTON VIDEO CLIP: Strong winds and rain slam the Isle of Palms in South Carolina- 15.4mb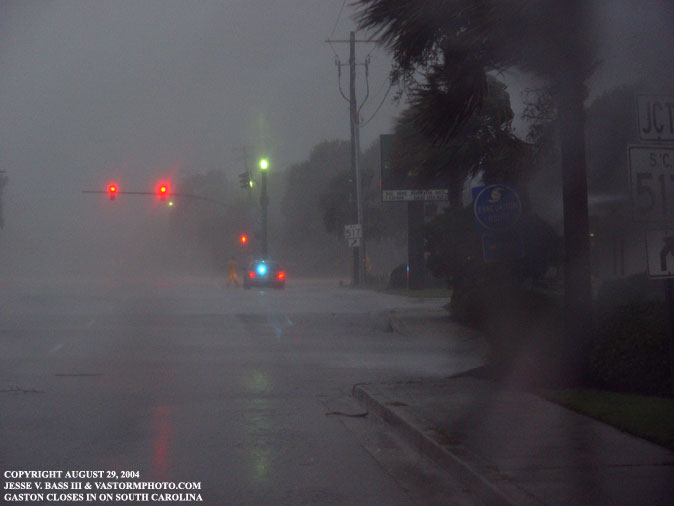 Here we were approaching the State Road 517, the Isle Of Palms Connector. As you can see the rain was extremely heavy and the police had the bridge entrance blocked.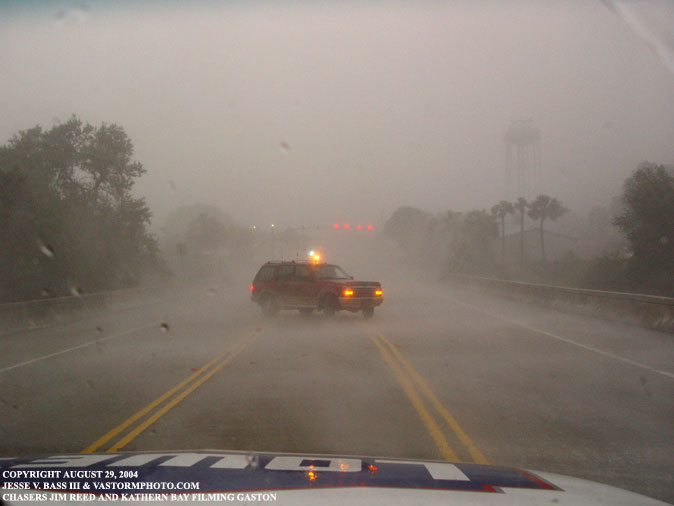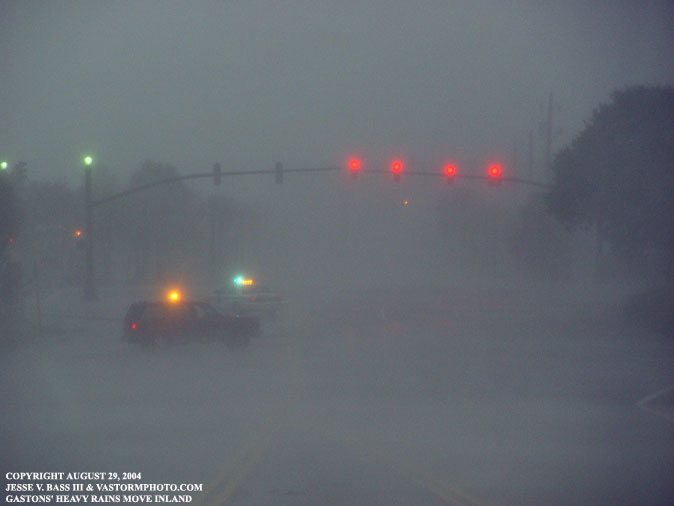 Here are two photos of Jim Reed's red Ford Explorer on the Isle Of Palms Connector. He and Kate were shooting photos and video as well from the bridge.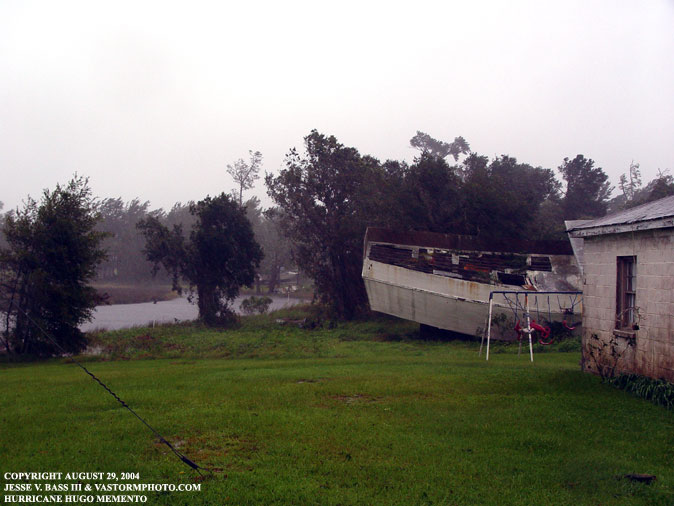 Once up Rt. 17 north, we stopped in the area where this boat was dumped on shore during Hurricane Hugo in 1989. The people that live in the house decided to just leave it there. It is a good reminder of the power of a hurricane.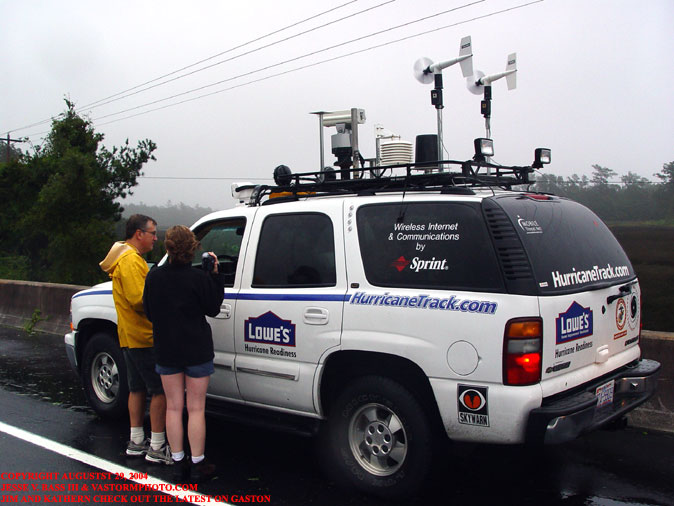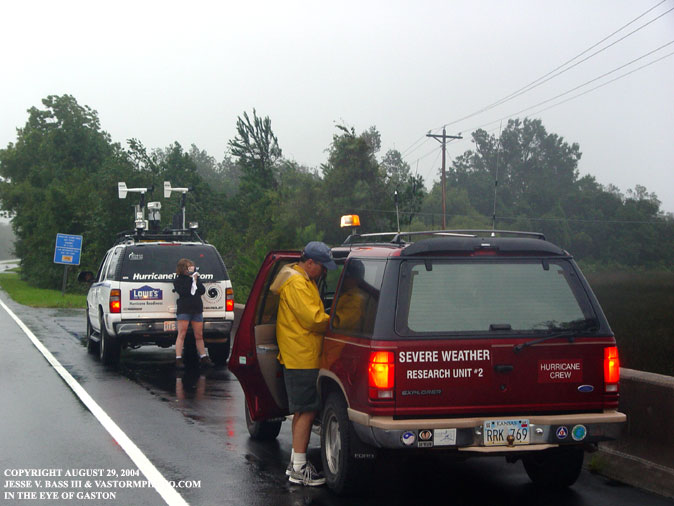 Jim and Kate followed us up Rt. 17 and took the time to stop and chat awhile with us while we waited for the center of Gaston to pass over. In the first photo Jim and Kate were checking out the latest satellite photo and radar images from the Tahoe. A few minutes later, Jim Reed went to his Explorer to grab him camera and start shooting photos while Kate was in charge of the camcorder.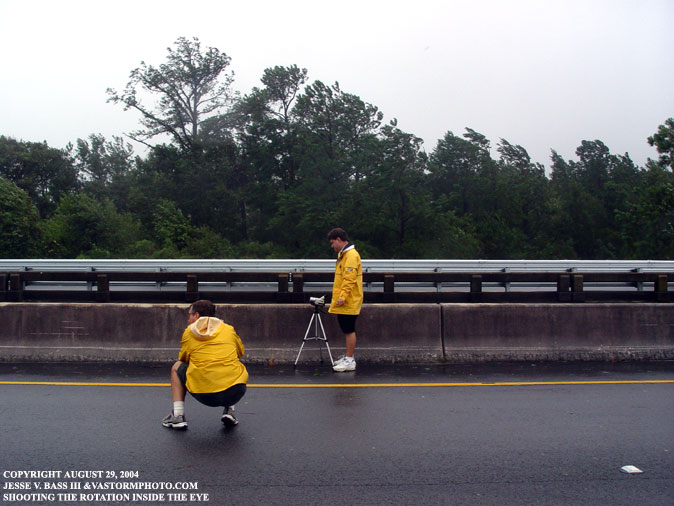 As the center of Gaston moved over, Mark took his camcorder out to try and shoot some time lapse of the center passing over. Jim Reed stopped to shoot some photos of Mark at work.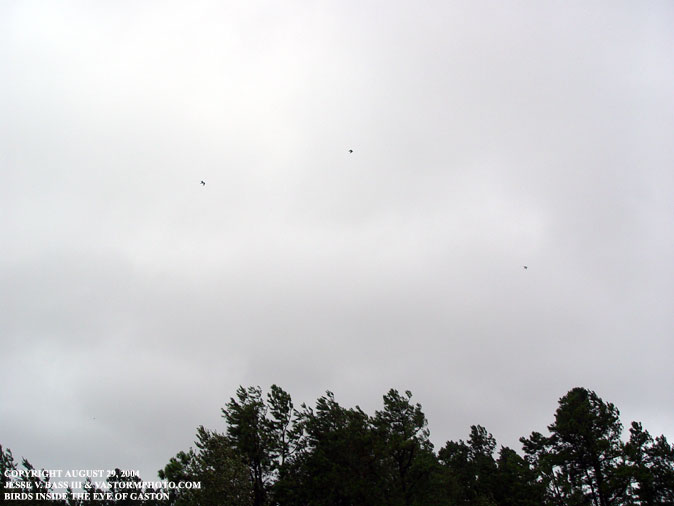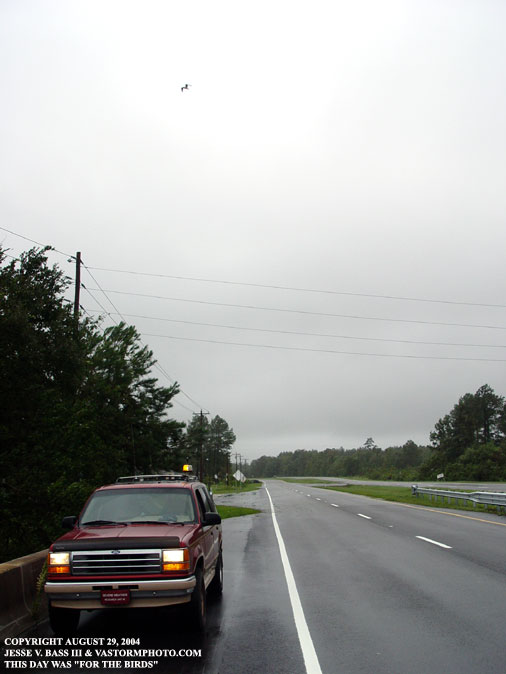 As we were filming the centers passage, we noticed several birds flying around the center where it was a little less windy.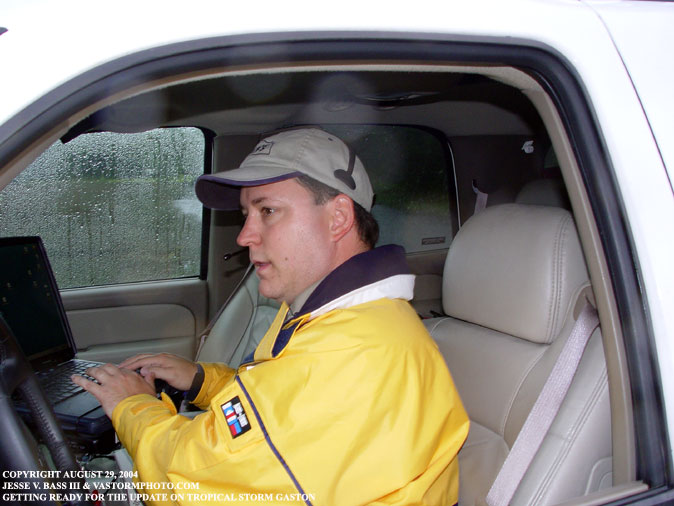 Mark updating the website on out latest observations.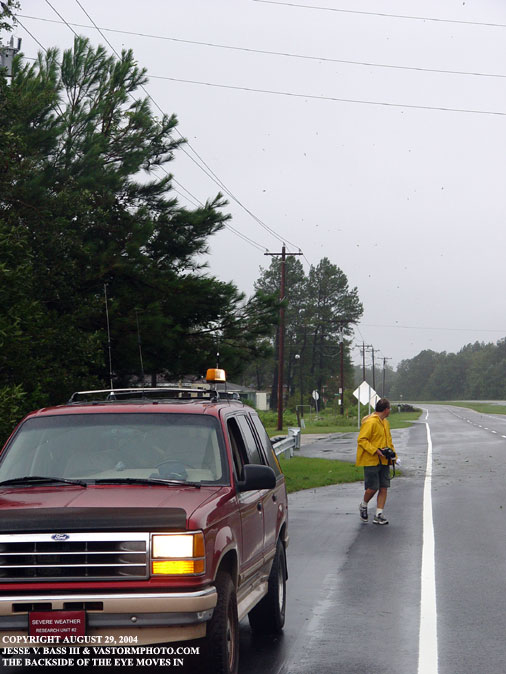 Here Jim Reed was coming back to his vehicle after shooting a few photos, the wind started to quickly increase and behind him you can see leaves and debris being blown into the air.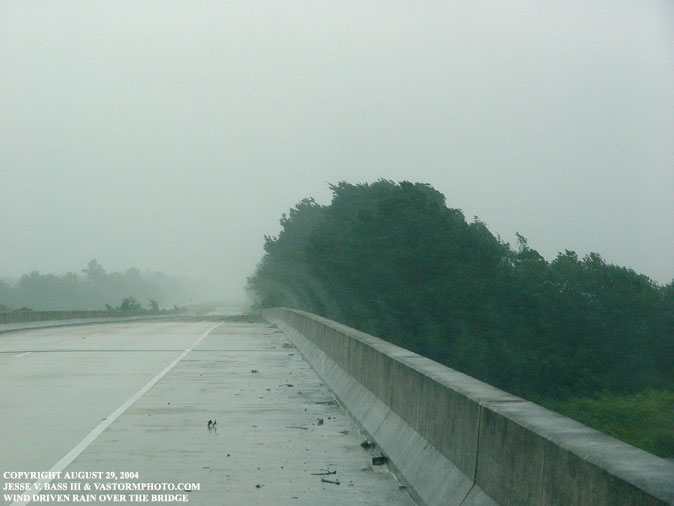 As the wind increased from the backside of the center, we could see this awesome wind profile as it blows rain up and over the wall of this bridge. Winds were nearing 60mph in gusts.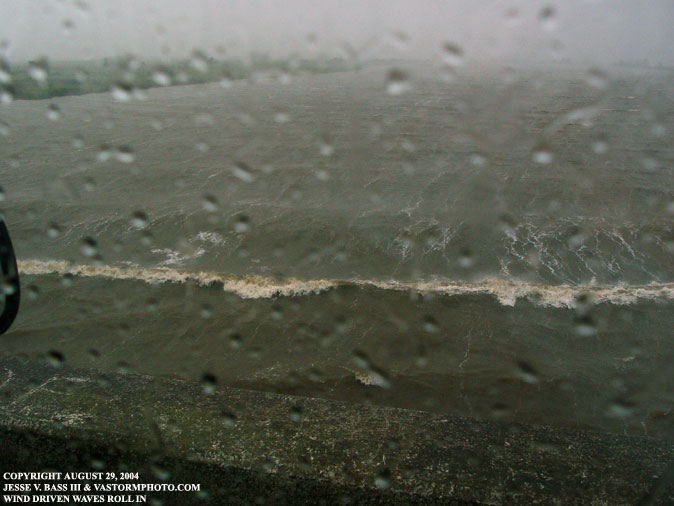 Looking down from the bridge we could see the wind blown surge and waves moving inland.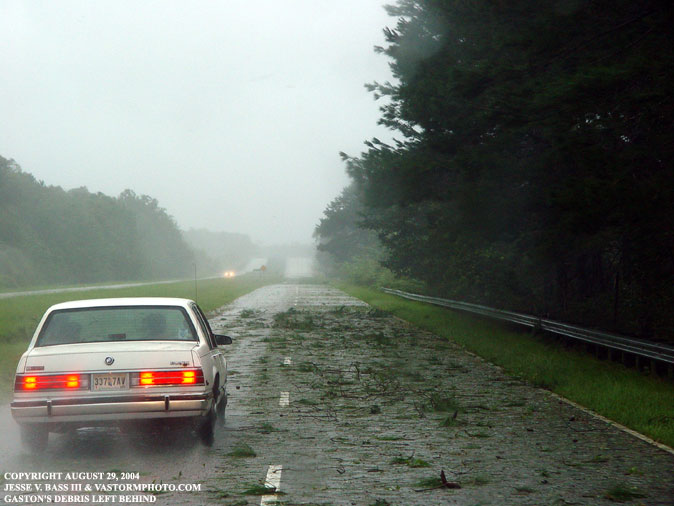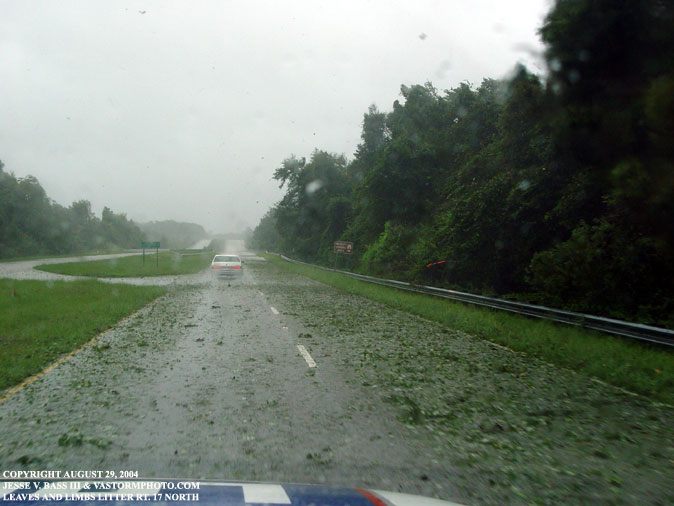 As we started to head back home up Rt. 17, there were plenty of areas just like the photos above. There was plenty of tree debris blown over the road. We did see several tree limbs down but nothing of real significance.
As we headed back to North Carolina, we continued to watch the powerful Hurricane Frances bearing down on the Bahamas with winds of 120mph. We would have to quickly get prepared for the trip south. Gaston would move inland and turn north into Virginia and cause some extreme flooding in and around the Richmond, Va. area. By August 30, 2004, Gaston would move back out over the Atlantic waters and regain tropical storm status once again. As Gaston pulled away from the coast he would strengthen with winds near 50mph before the last advisory was written. At the same time, Tropical Storm Hermine developed close to the Mid-Atlantic coast and moved northward and crossed the eastern tip of Massachusetts on August 31, 2004 as a 35mph extratropical system. Hermine's winds would reach 50mph before doing so.
Now for a piece of history, August 2004 would break a record set back in 1933 which was tied in 1995. The record of seven tropical cyclones to form in August would be broken with the development of Hermine. This would make eight cyclones in the Atlantic basin in one month. Although Alex became a depression at the end of July, it would not become a tropical storm until August. This would be an indication that September, the statistical peak of the season could be and most likely would be just as busy. And with six of the eight making landfall in the United States so far, it looks to be record breaking year.
All Images Copyright Jesse V. Bass III and VaStormphoto.com

Copyright 2004 All Rights Reserved