DAYTONA BEACH TO FORT PIERCE, FLA.
SEPTEMBER 2-6, 2004
Just a few days after Tropical Storm Gaston came ashore in South Carolina, we had to quickly get ready to leave for Florida to intercept Hurricane Frances. This time we would have a documentary crew with us for the first mission of the HLP (Hurricane Landfall Project) vehicle. I would arrive in Wilmington, NC. late in the evening of September 1. Of course Mark and I were up late looking at new model runs, satellite images and getting the latest data from the NHC as Frances was blasting her way into the Bahamas with winds of 140mph sustained. It was starting to look bad for southeast Florida as the second major hurricane to threaten the state was bearing down. On the morning of the second, we were preparing to leave for Florida and meet team member John Van Pelt along the way as the documentary crew came to Mark's to begin the filming. Jeff Flock a popular hurricane reporter with hurricane buffs who was with CNN for 20 years until last year, headed up the documentary crew from Towers Productions. They started filming us loading the vehicles with the rest of the gear, hooking up the HLP vehicle to the Tahoe and our plans for the vehicle as Frances moved inland. We hit the road in the late morning hours headed south for the Sunshine State. By 2pm a hurricane warning had been issued for portions of Florida's east coast from Florida City to Flagler Beach. We made Jacksonville by 6pm and the north bound side of I-95 was slammed with folks evacuating the east coast from West Palm Beach to Daytona Beach. We met John at a rest stop along I-95 south and stopped to shoot video and photos of the evacuations underway. After doing so, we quickly got back underway to our hotel in Daytona. The hotel was about 1/2 mile east of the Daytona International Raceway. By 8pm on September 2, Frances' winds were still 140mph but her forward speed was decreasing from 14mph to 9mph and the NHC was saying that Frances would continue to slow down.
After getting up and checking the latest stats on Frances, we went outside in front of the hotel where they had started boarding up to shoot a video update for Hurricanetrack.com. From there we headed north to Ormond Beach to a Lowe's store to pick up a few last minute items and to meet the store manager. By 11am on September 3, Frances had weakened some with winds now near 115mph and the forward speed remained at 9mph. While we were there a news crew that had stopped to shoot video of folks buying their hurricane supplies saw us roll in and wanted an interview with Mark. While this was going on, I started shooting video and photos inside and out of people picking up their supplies. There were plenty of people buying plywood to board up their homes and businesses. Once we were finished at the store, we went to Daytona Beach to check out the conditions. The sun was shinning brightly and the beach was vacant. Most of the local stores and hotels were closed and the beach road looked like a ghost town. We found a beach access and pulled over where there were maybe twenty-thirty people standing around looking at the Atlantic Ocean grow more angry by the minute. John and I went down onto the beach where we could shoot the beach and how vacant it was for a Labor Day holiday weekend. The documentary crew followed and shot the beach as well. John and I met a mother and daughter who are locals to Daytona and spend part of their time there and part of the time in California. We asked to shoot them as they watched the ocean waves and the beautiful cumulus clouds roll in from the ocean. They were the only people on the beach besides us. After we left the beach we stopped by an gas station that was open to top off fuel and went to the Red Lobster across the street from our hotel to get one last hot meal. Afterwards we had a bit of work to do to the HLP vehicle to get it ready for the landfall of Hurricane Frances.
By morning, Frances had weakened to 105mph and was moving slowly, near 4-6mph towards the Florida east coast. Heavy rainbands a squally weather had already come ashore south of Daytona near Hutchinson Island and Fort Pierce and points south. There were reports of damage coming in of trees down along with power lines and some minimal roof damage. We loaded up the vehicles and headed south to Hutchinson Island where we would leave the Rodeo (HLP vehicle) to gather data for the duration of the hurricane. Frances' eye had widened to 70 miles in diameter. Here is a sentence from the 11am discussion on Frances, "FRANCES HAS A LARGE EYE AND IS MOVING SLOWLY. THEREFORE...THOSE IN THE PATH OF THE CENTER WILL EXPERIENCE THE CALM OF THE EYE FOR A LONG PERIOD OF TIME." That calm period was about 7 hours if you went right through the direct center of the hurricane.
Once we found an area to leave the HLP, John and I headed back to Fort Pierce where Mark had called the EOC office there and lined up a place for us to stay. With possibly 18 hours of hurricane conditions and the threat of 20 inches of rain possible due to Frances' slow forward speed, we need a place to go. Mark and the documentary crew stayed behind to make sure everything was running and that the data was being sent back to the website when a gentleman who told us we were welcome to use his condo in Hutchinson Island contacted Mark and told him they were right down the street from it by watching the webcam. They went to the condo and stayed the night there while John and I were back at the EOC seeing how things were handled there and working with some local media. By morning Frances was moving inland slowly and we were in contact with Mark as they were making their way up I-95. John and I met them at a rest stop just outside Fort Pierce. As they pulled into the parking lot, in comes my friend from West Virginia Dan Robinson who drove down by himself to intercept Frances. We talked about the storm for a few minutes and Mark and John finally got to meet him. We said our goodbyes and hit the road north. We made back to Daytona where the weather was still squally and very windy. We were also low on gas. With nothing open and less than a 1/4 tank of gas in each vehicle, we had to sleep in our vehicles in the parking lot of the hotel where we had stayed just a few nights before. The wind continued to howl through the night and the rain was relentless at times. By the next morning there was talk of a few stations near Ormond Beach that had gas but no one knew when they would open or if they had power. We drove north up I-95 to Ormond and after a few hours of waiting, a station opened. I was able to fill up while John and Mark were able to get just about a half tank before they ran out of gas. With another stop a little further up I-95 everyone topped off and we headed to Jacksonville where everything was open and we stopped for a good hot meal. The traffic on I-95 south was as congested as it was when we were coming into Florida with people trying to get back home after the storm.
VIDEO LINKS:
FRANCES VIDEO 1 : The drive out to Hutchinson Island to deploy the HLP vehicle
FRANCES VIDEO 2 : After reaching the EOC in Fort Pierce
FRANCES VIDEO 3 : Wind and rain in Daytona the morning after landfall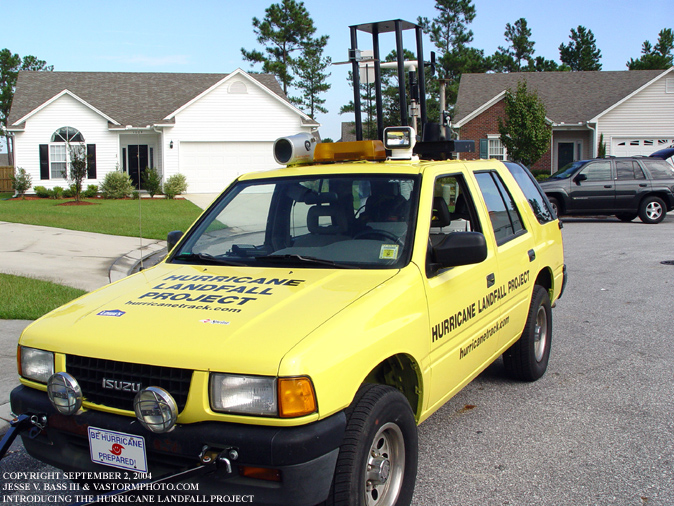 The HLP vehicle ready for its first mission of 2004.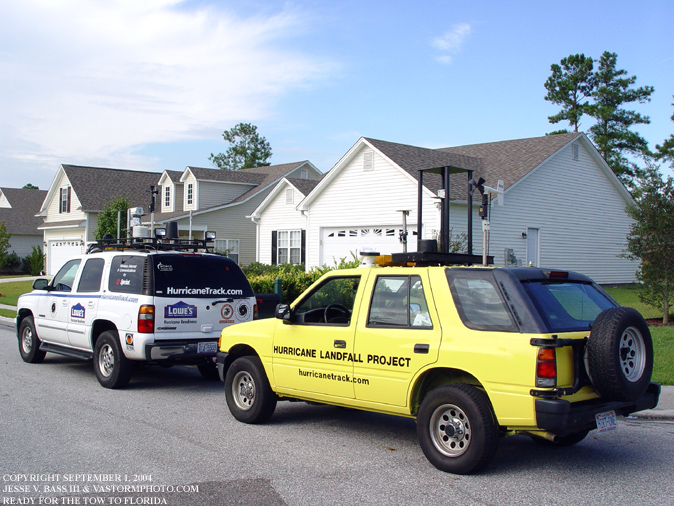 All hooked up and ready to be towed to Florida.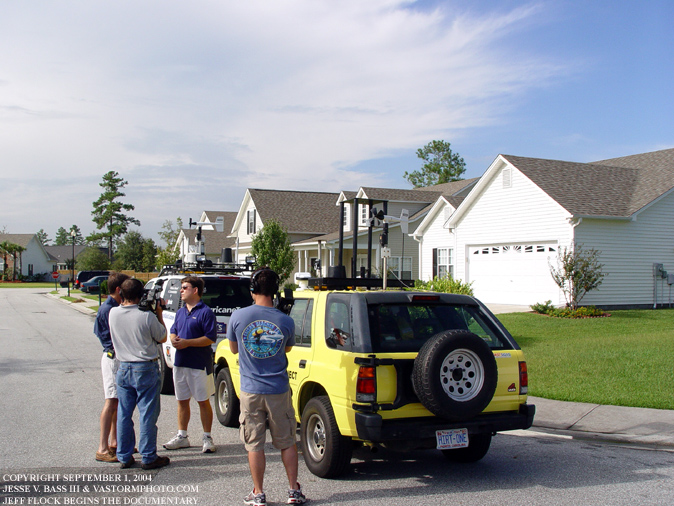 Before we it the road, the documentary crew shot a piece with Mark describing the vehicle and what our goal was for Frances.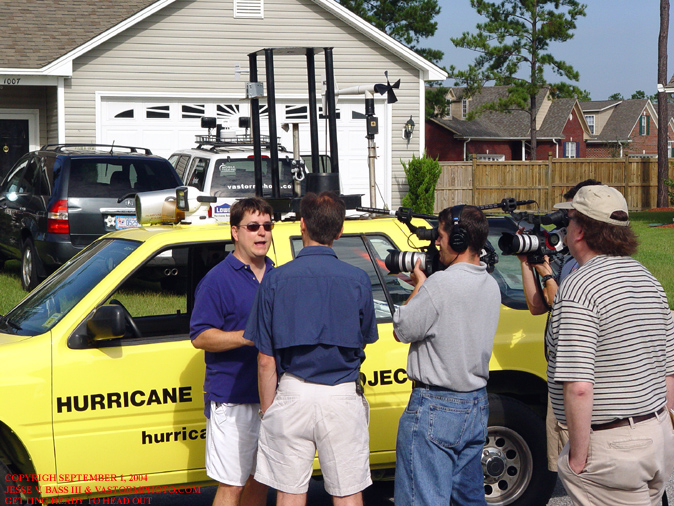 Jeff Flock interviewing Mark for the documentary.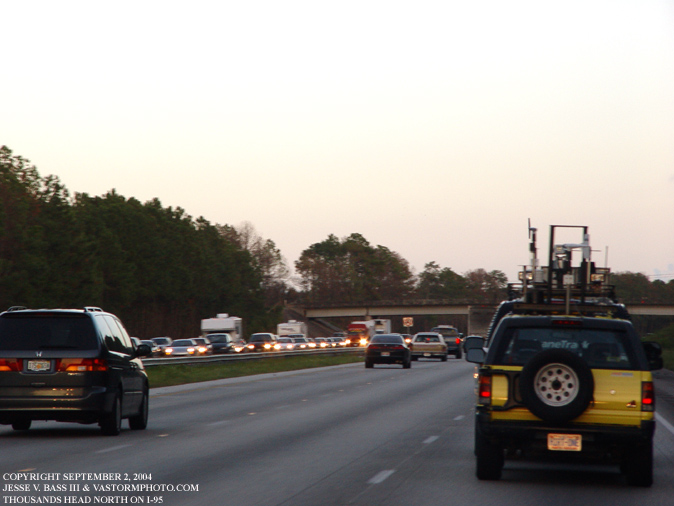 With the Rodeo in tow, we were just reaching Jacksonville where we could see the line of traffic headed north as evacuees were getting out of the way of Hurricane Frances. Some two million people were asked to leave their homes.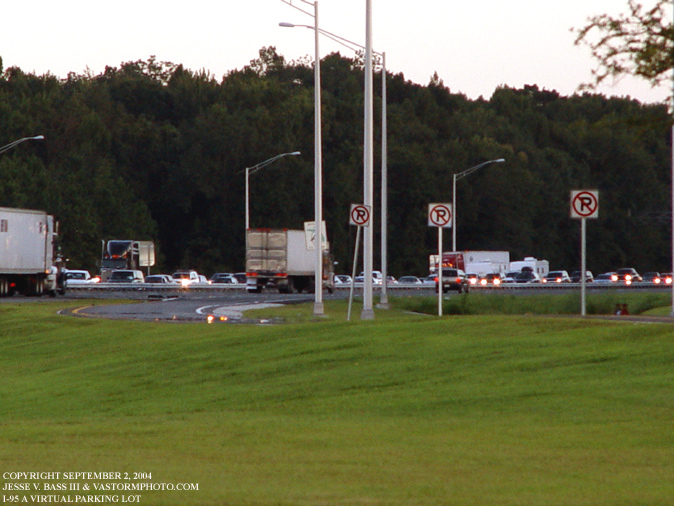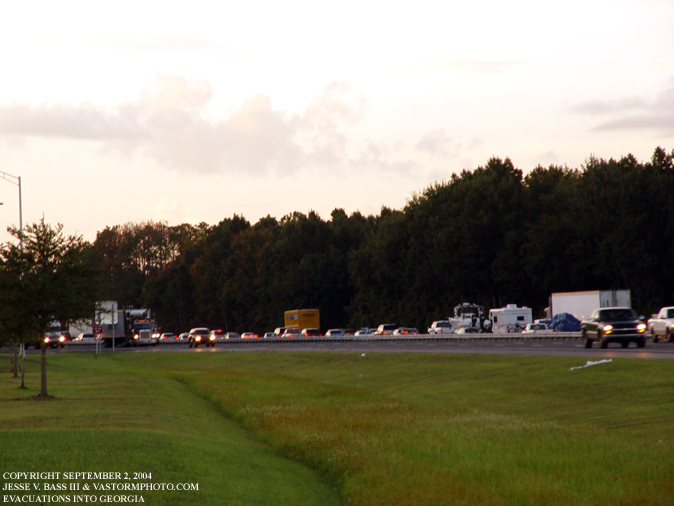 From the rest stop south of Jacksonville, north bound evacuation traffic was at a stand still for most of the evening. It looked just like this from Jacksonville south to Daytona for several more hours.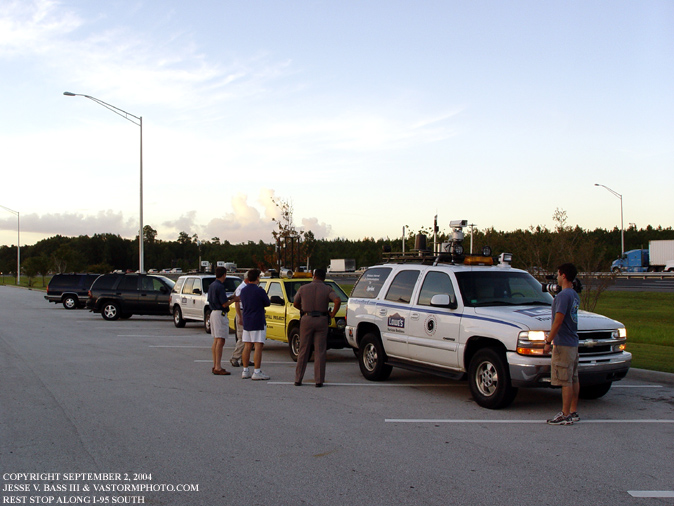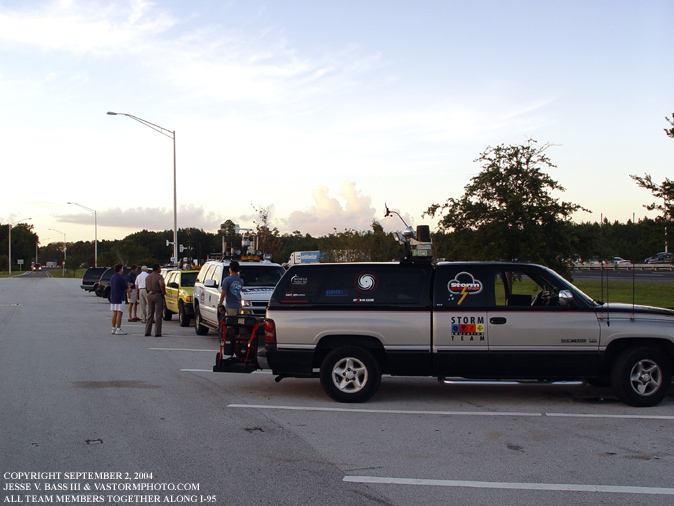 This rest stop is where we met up with John Van Pelt before driving to Daytona. This was the first time John had seen the Rodeo after being painted and the after the new tower system had been welded to the roof to hold the weather equipment.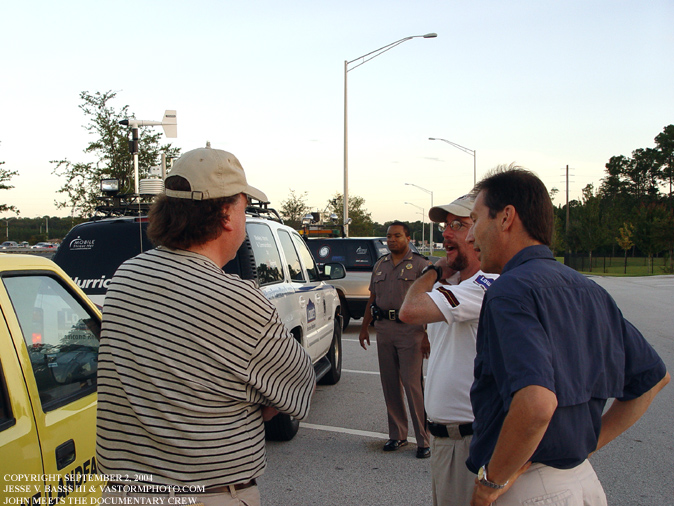 John says a quick hello to Jeff Flock and meets documentary producer Rob Hess from Towers Productions as a local police officer checks out the vehicles and equipment.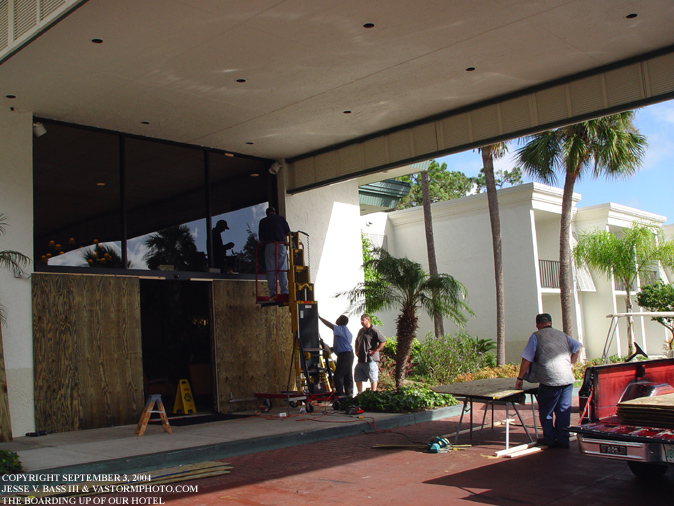 By the next morning the hotel we were staying at, The Holiday Inn Express had started to board up and get ready for Hurricane Frances' arrival. Mark and I shot a video update for Hurricanetrack.com as the boarding up continued. You can see that here!!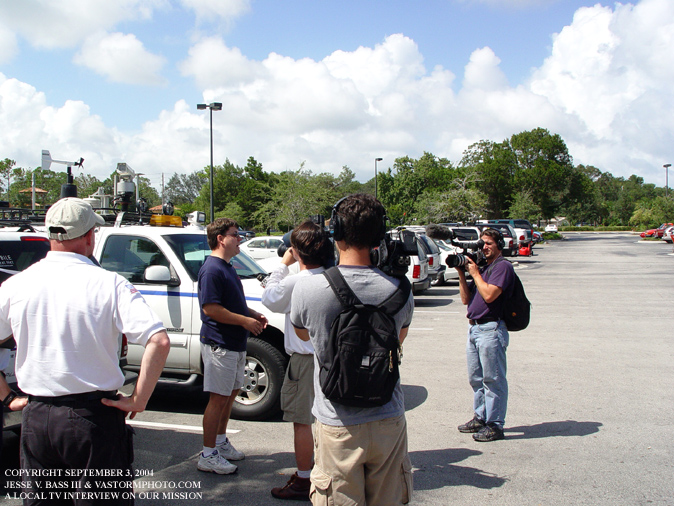 We left the hotel and drove to near Orlando for something to eat and check out the area after Charley moved through. From there we headed back to Ormond Beach where we stopped by a Lowe's to get a few last minute tings for the HLP vehicle. Once in the parking lot we were approached by a local news station who wanted to get an interview about why we were there and what out mission was on Frances.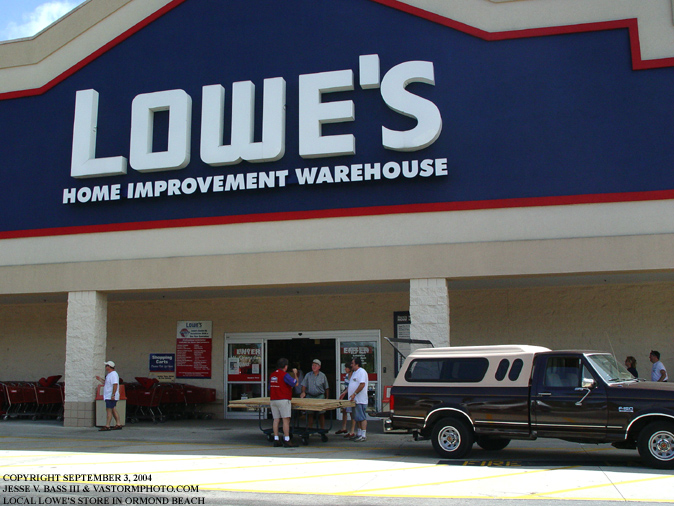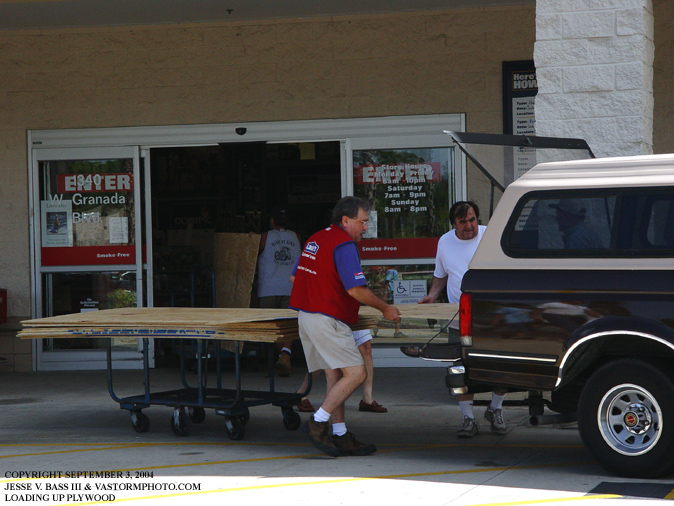 This was an all to familiar scene as folks were buying plywood to board up homes and businesses.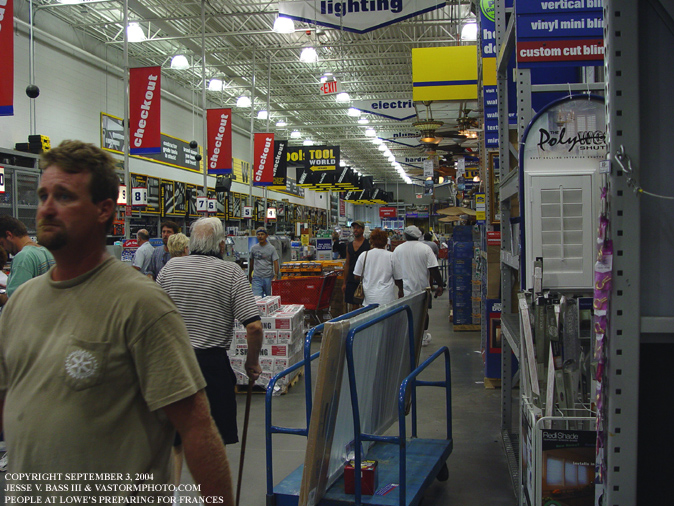 Once inside the store, I tried to shoot video and photos of all the people that were buying their hurricane supplies. This photo just does not do justice to the amount of people that were in the store.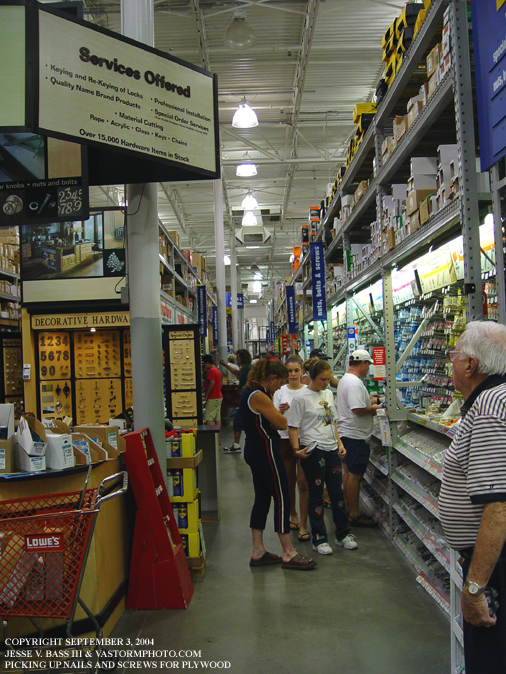 An here people were picking up any need hardware such as crews, nails, hinges for shutters and plywood to help fasten and hold them into place during the high winds of Frances.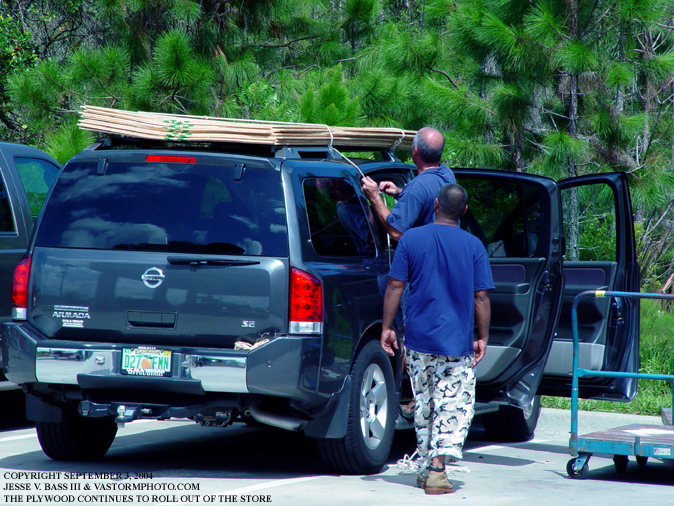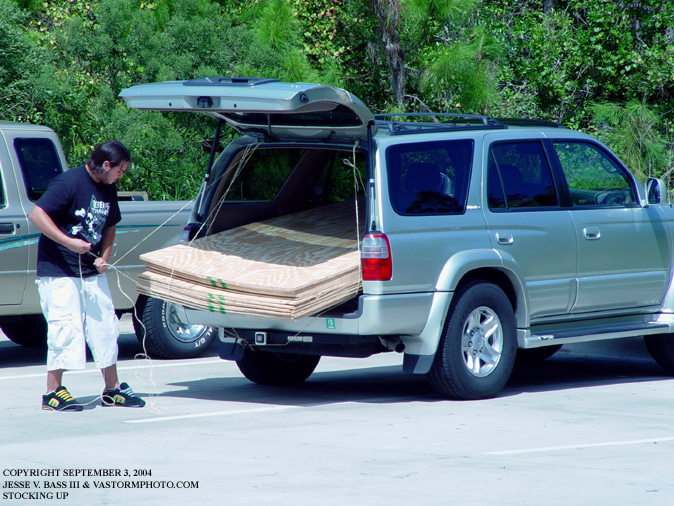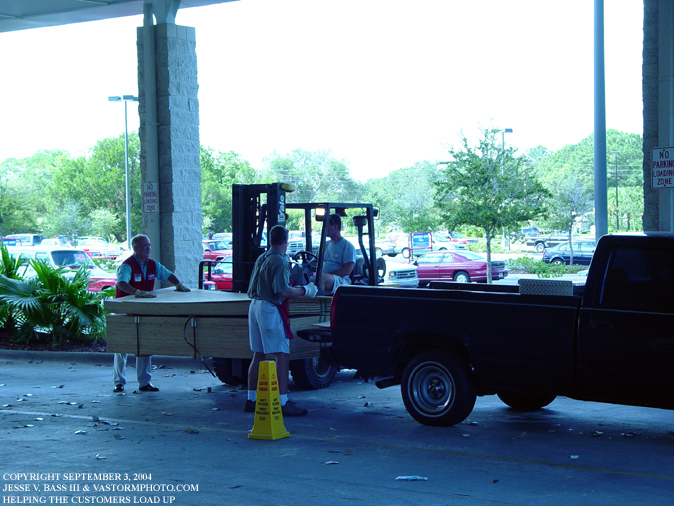 Outside the loading of plywood continued. Some people stacked the plywood in their vehicles and tied it down while others were being assisted by the Lowe's employees to get loaded up.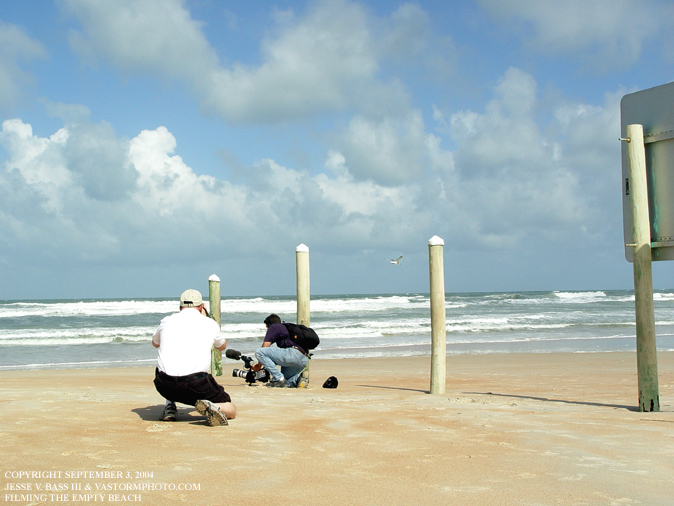 After leaving the Lowe's store we drove to Daytona Beach to check out conditions and any activity going on along the ocean front. Here the documentary crew was filming the beach while John shot a few photos of them in action.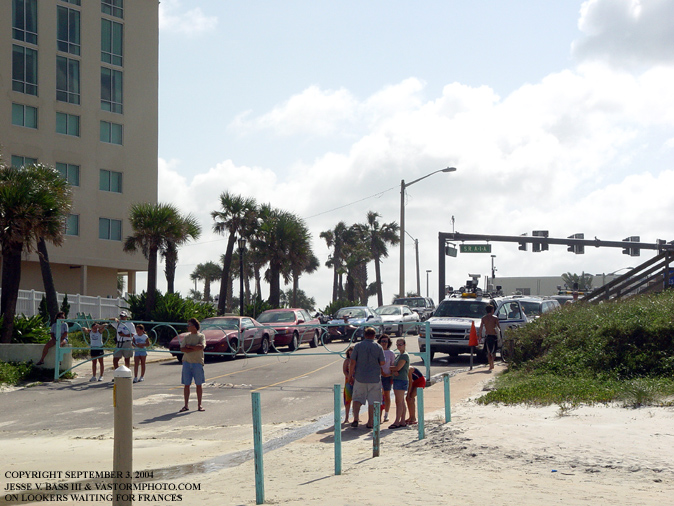 Here several locals were checking things out as well.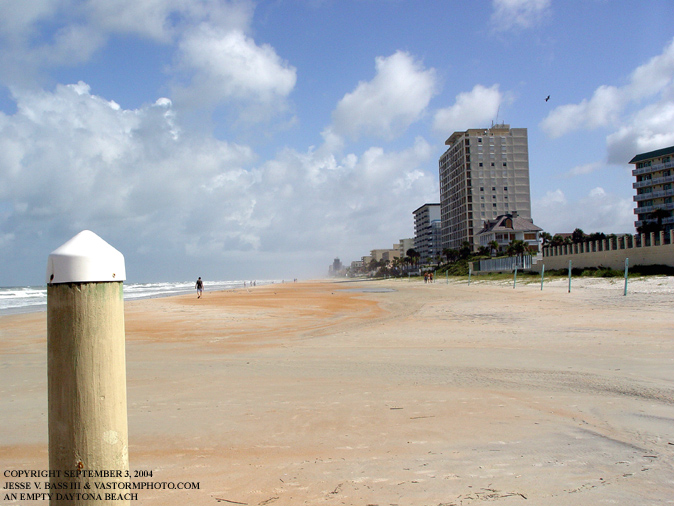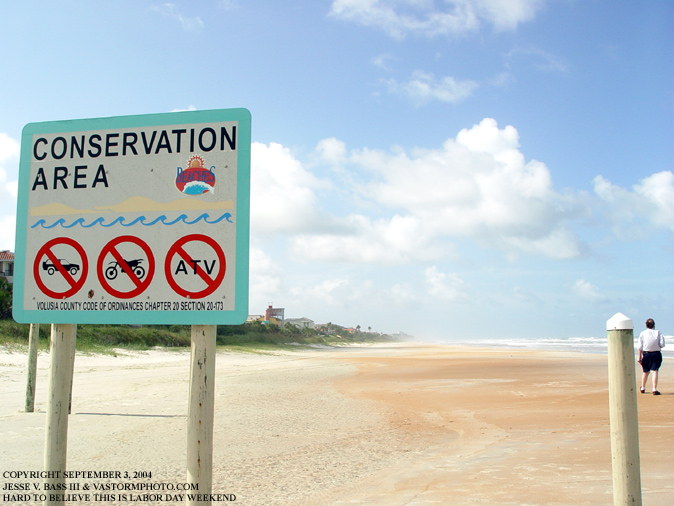 It just didn't seem real that the beach was vacant on Labor Day weekend. Other than just a few people walking the beach, on a normal Labor Day weekend this beach would be cover in a sea of people with thousands of tourists and locals enjoying the last days of summer. Not today!!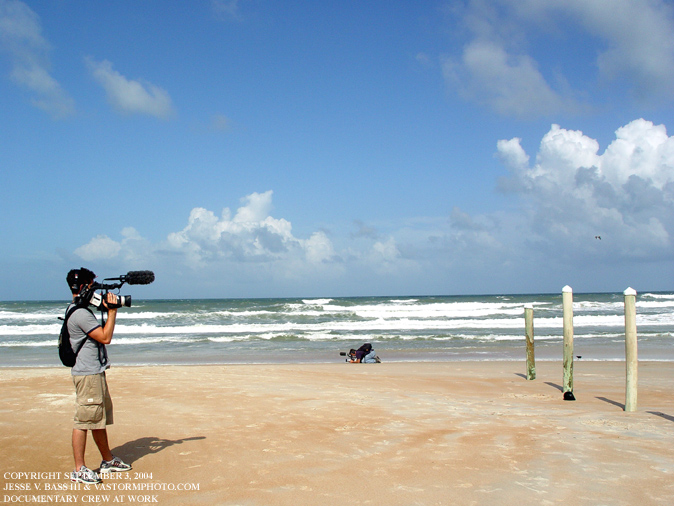 Both documentary camera guys hard at work.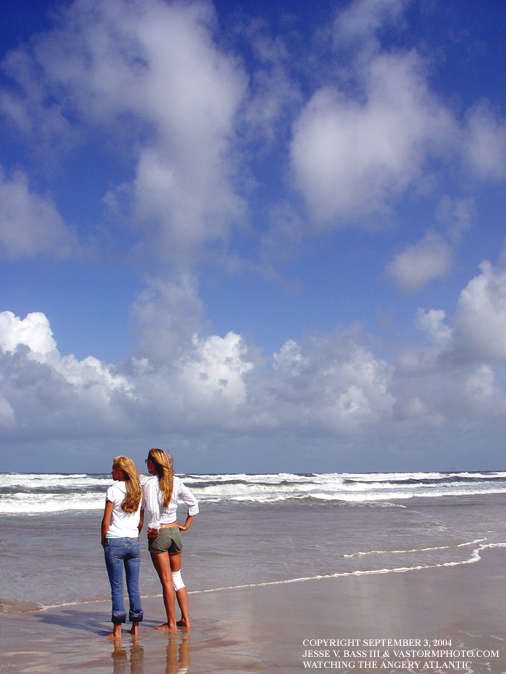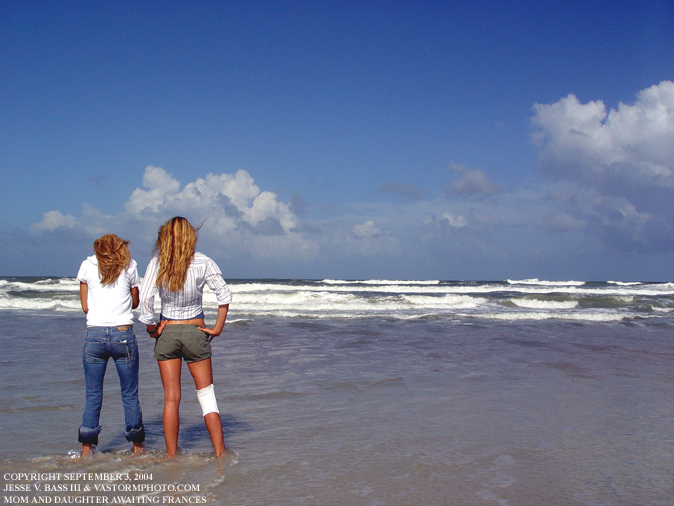 Here a mother and daughter watch the angry waves roll in off the Atlantic churned up by Frances. Locals to the area, they said they have never seen the beach so deserted.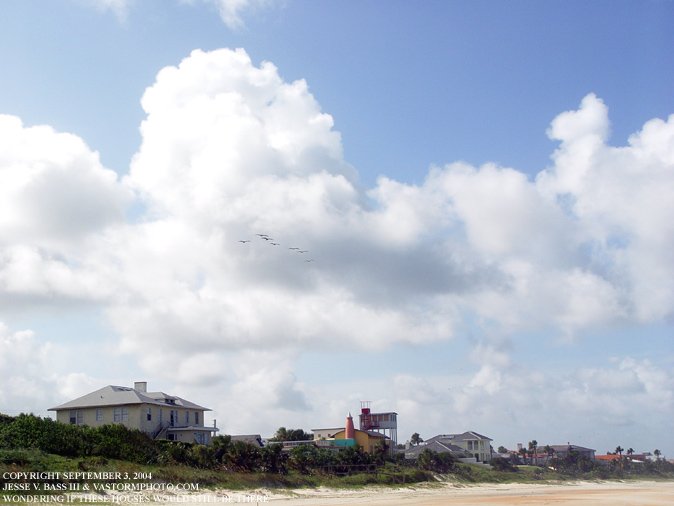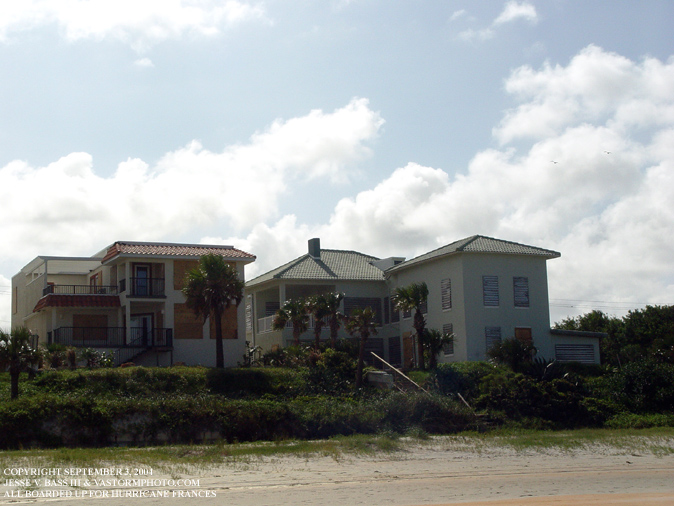 Looking at the homes that line the beach and how they were boarded up and empty, it was hard to believe that a hurricane was just off shore with the bright, crisp blue sky overhead. It was pretty breezy already down on the beach.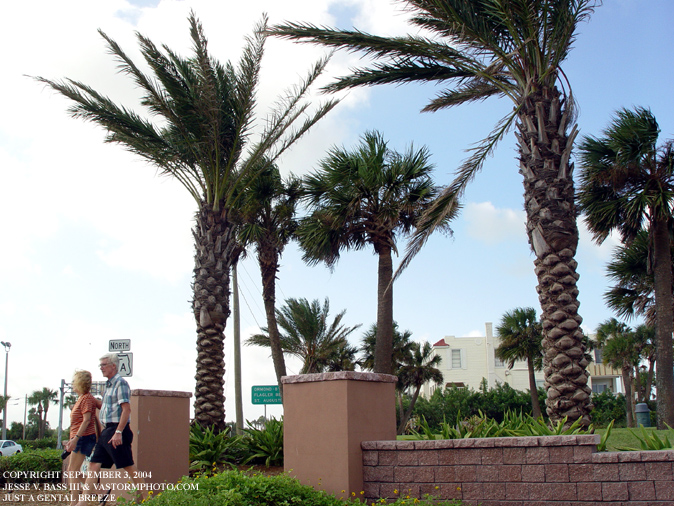 As we started to leave the beach other folks were calling it a day as well. They were leaving the area and headed for a safer place in preparation for the storm.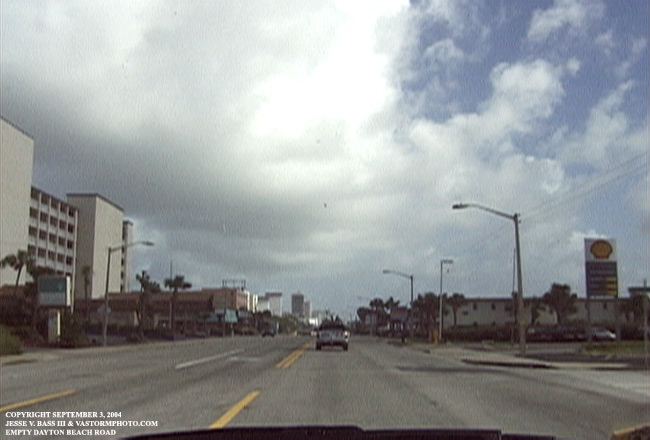 This is a video frame grab as we left the beach and headed back to the hotel. Notice how empty the beach road is for a holiday weekend. All the hotels and most businesses along the road were boarded up and closed with the exception of one or two small gas stations that were open.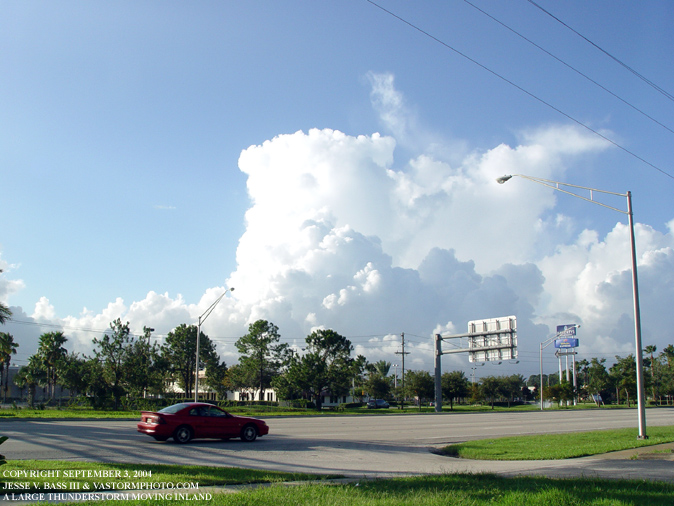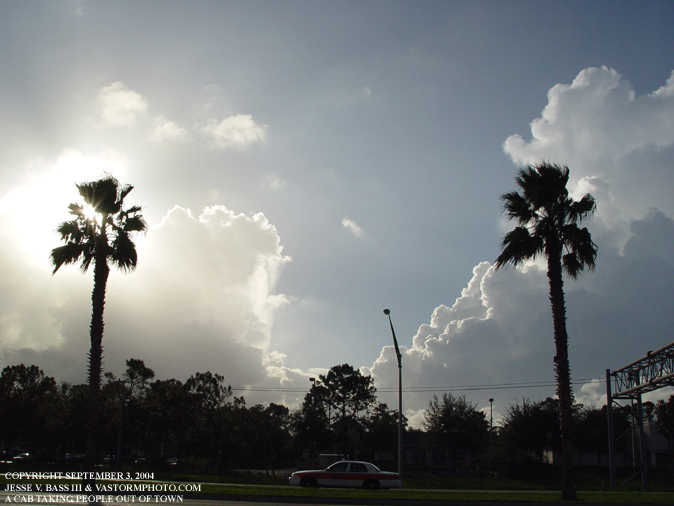 As we were getting ready to eat at the Red Lobster the evening before Frances' landfall, we watched some big thunderstorms associated with some of her outer bands move on shore.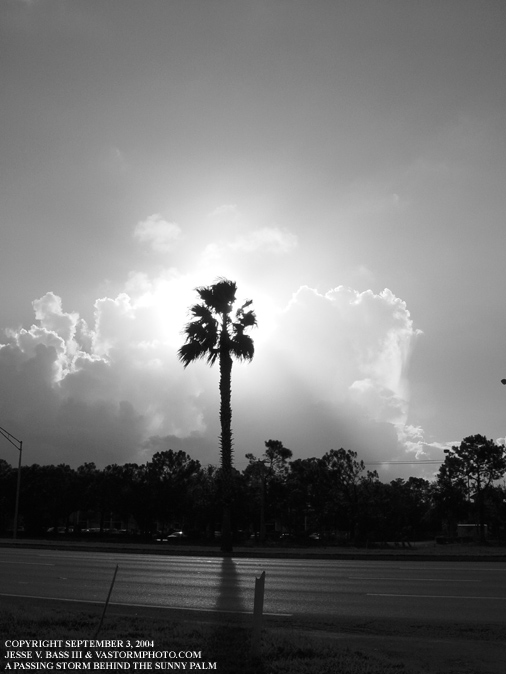 John shot a photo like this one and it turned out beautifully. I could not pass up the opportunity to shoot it myself.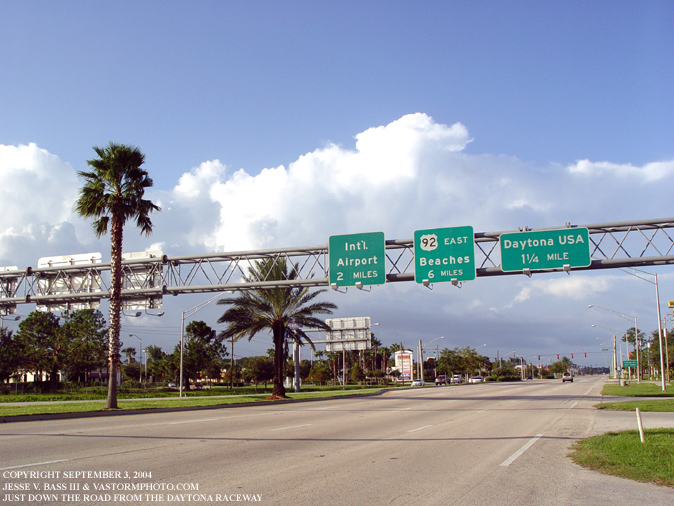 Looking east along Hwy. 92. The road was nearly empty with the exception of a few people who waited to evacuate headed west. Daytona International Raceway was just down the road.
All Images Copyright Jesse V. Bass III and VaStormphoto.com
Copyright 2004 All Rights Reserved